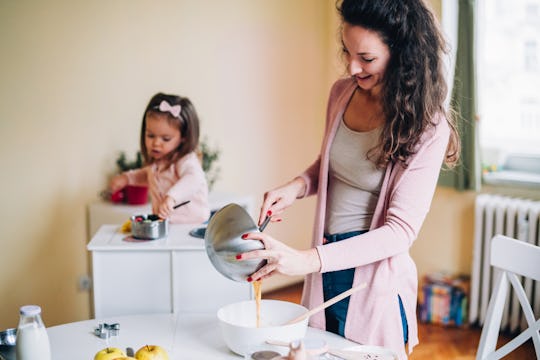 VioletaStoimenova/E+/Getty Images
9 Ways To Keep Your Toddler Occupied So You Can Actually Cook Dinner
I absolutely love to cook, but knowing how to keep a toddler busy while cooking is an art that I never quite mastered. I usually resorted to only meal-prepping during nap times or using the TV as a distraction while I attempted to pull dinner together when my kids were little. Now that my kids are older, I can cook more than I could when they had to be constantly entertained, but I'm also aware of a few more tricks and tips than I was back then.
When you're cooking, but your toddler is begging for you to play with them, your attention seems like it has to be two places at once. It's a tug-of-war that can feel like a no-win situation — either you ignore your toddler and focus on finishing up that nutritious meal you know they need, or skip out on cooking and attend only to your kid. For budding home chefs and those tired of pizza, the struggle is real.
It doesn't have to be that way. You can entertain your toddler and cook up a delicious meal at the same time. It just takes a little bit of patience and preparation. These nine tips for keeping your toddler busy while you're cooking are from real moms and childcare experts, and they'll help entertain your toddler and give you more time to focus on your food.