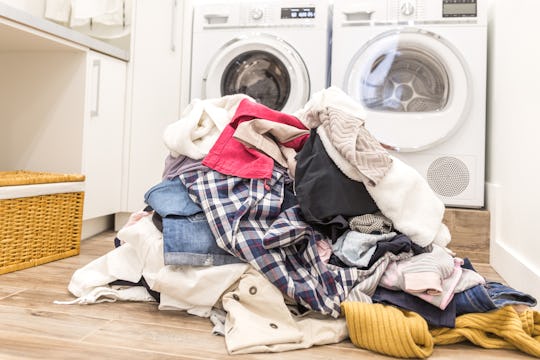 mariakraynova/Shutterstock
Here's How To Save Yourself From Being Smothered By Your Laundry Piles
As a new mom, my laundry pile is off the charts — especially since we cloth diaper. I used to get all of our laundry done every Friday morning before my shift at work, and then my husband and I were free to enjoy our weekend. But after my son was born, I find myself tramping up and down our rickety basement stairs at least twice a day doing baby laundry — and that doesn't even include ours, which is always piled sky-high now. So my old knees and I are wondering how to keep up with the laundry, because nothing is worse than having to lug a huge basket down the swaying basement stairs of my 1920s house. And I hate not having clean underwear when I need them.
With the new hit show on Netflix, Tidying Up With Marie Kondo, it seems like everyone has gone into an organization and folding mania. I've seen photo after photo of perfectly folded clothes on my Instagram feed, along with freshly organized closets. But what I'm wondering is how they got there. How the heck did these people have time to organize their closets, perfectly fold and store all of their clothing, and make sure it's all clean before carefully placing their clothes in their immaculate drawers and closets?
These supermoms (and dads) are awesome, but I never see an overflowing laundry basket in the background of these photos. Maybe they're really good at keeping them out of the shot? Or perhaps they know something I don't about how to keep up with the laundry. I polled these supermoms and even spoke to some cleaning and organizational experts to answer the question plaguing all parents (and all adults really) — how do you keep up with the laundry before it overtakes your house?