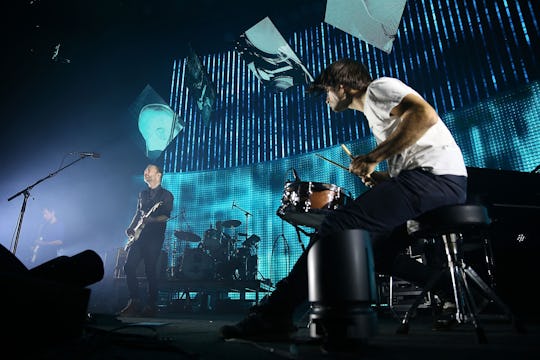 Mark Metcalfe/Getty Images Entertainment/Getty Images
How To Listen To Radiohead's 'True Love Waits' & Freak Out With Everyone Else
Radiohead finally released its ninth studio album on Sunday, and A Moon-Shaped Pool had one pretty awesome surprise on it for fans: It includes a studio version of "True Love Waits." The longtime favorite was previously only available in the 2001 live album I Might Be Wrong, so the studio version has been wholeheartedly welcomed by fans 15 years after its original release. True love truly does wait, apparently. If you haven't heard it yet, here's how to listen to Radiohead's "True Love Waits," so that you can join the collective excitement of fans around the world.
Currently, A Moon Shaped Pool is available on iTunes, Apple Music, and TIDAL for streaming, and the full album can be purchased on Radiohead's website or through Amazon. Spotify-ers only have "Burn the Witch" and "Daydreaming" available to them at the moment, but a Spotify rep told Billboard Sunday, "We look forward to making the rest of A Moon Shaped Pool available on Spotify as soon as we can."
Regardless of where you get your "True Love Waits" fix, you can join the fans freaking out over the studio version on pretty much any form of social media. If "True Love Waits" has been a live favorite of yours, I'm willing to bet you'll enjoy the revamped, piano-backed studio version. On Sunday, both #AMoonShapedPool and #TrueLoveWaits were trending on Twitter, and the reviews of both were overwhelmingly positive.
There's no real need for professional reviews of Radiohead's new 11-track album — if you're a fan, this one is unmissable. (But, if you're curious, reviews in The Telegraph and The New York Times are calling it "a work of total self-assurance" and "patient perfectionism.") It all started earlier this month, when Radiohead surprise-released "Burn the Witch," complete with a creepy stop-motion video, shortly after their website and Twitter went down. Soon after, "Daydreaming" was released — also with its own video. Sunday, Google Play spilled the beans on A Moon Shaped Pool by putting the album up for sale early (then quickly deleting it).
Radiohead will keep the recent hype going with a Radiohead world tour, which kicks off May 20 in Amsterdam. They're set to tour through Europe, Japan, the United States, Canada, and Mexico, wrapping up in early October at the Austin City Limits Festival. Many of the tour dates have already sold out, so if you're interested in catching Radiohead outside of a streaming service, make sure to buy your tickets — and soon.