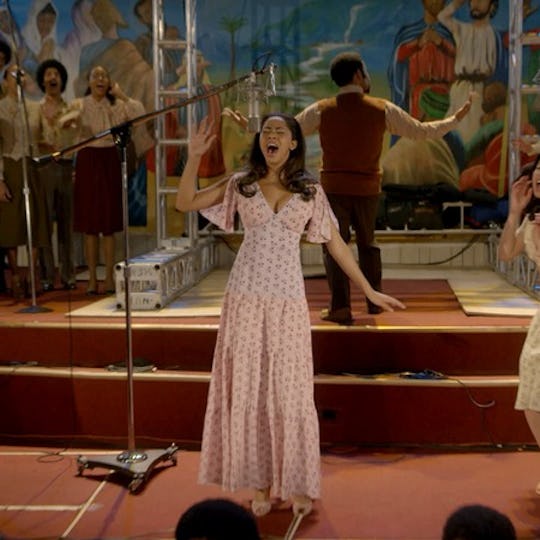 Netflix
How To Listen To "Set Me Free" From 'The Get Down' Soundtrack, Since It's So Catchy
(Warning: This post contains spoilers through Episode 5.) When I first heard about The Get Down, I was intrigued. A musical drama series set in the late '70s Bronx, bridging the death of disco and the birth of hip-hop? Brilliant. I was even more excited when I found out that the show was created by Baz Luhrmann and executive produced by rapper-producer Nas, two men who have long proven their musical genius. The first half of Season 1 features a lot of classic music from that era, along with a few originals sung by the cast. One original song stood out, making me wonder how I could listen to "Set Me Free" from The Get Down soundtrack.
"Set Me Free," a high-spirited, soaring, spiritually-influenced track backed by an orchestra, was instantly one of the most iconic tracks from the first batch of six episodes, and the creators of the show clearly recognized that fact. Sung by the extraordinarily talented newcomer, singer-songwriter Herizen Guardiola in the role of aspiring disco singer Mylene Cruz, "Set Me Free" was featured in the show's main trailer before the series even premiered – and it certainly did its job in getting people hyped for The Get Down and its incredible musical stylings.
The character of Mylene is so much more than a love interest for our male lead, Zeke "Books" Figuero, thankfully. She's a complex and engaging female character, who prioritizes her music career above all else. The song, "Set Me Free," nicely encapsulates that characterization and debuts in Episode 5.
After failing to write a song for Mylene – and blowing all of the money given to him by her uncle, Francisco Cruz, on drugs, nearly overdosing – record producer Jackie Moreno has a moment of "divine inspiration." Listening to Mylene and Cisco arguing with Mylene's uber-religious preacher father, Jackie comes up with the idea to write Mylene a "Pentecostal communal Puerto Rican disco hymn." And thus, "Set Me Free," Mylene's big, life-changing song, is born.
Right now, you can only listen to "Set Me Free" with a subscription to Apple Music or by purchasing the track via iTunes, where The Get Down soundtrack is exclusively for sale as of its August 12 release, according to Entertainment Weekly. The full track list includes contributions from well-known musical artists like Miguel ("Cadillac"), Christina Aguilera ("Telepathy" featuring Nile Rodgers), and Zayn ("You Can't Hide"), along with tracks sung by the cast, like Jaden Smith and Raury's "Losing Your Mind" and, of course, Herizen Guardiola's "Set Me Free." If you want to listen to this killer, ridiculously catchy track ASAP, you'll have to buy the standard album or deluxe version (which features eleven more songs than the standard) via iTunes.