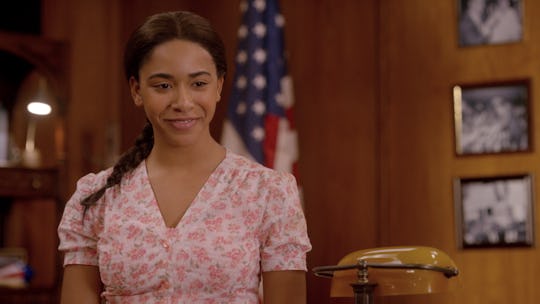 Courtesy of Netflix
Mylene's "Toybox" Song On 'The Get Down' Is A Must-Hear
Warning: minor spoilers from Episode 10 ahead! The second half of the first season of The Get Down is finally here and fans are already in love with it. It finds the popular characters in different stages of their lives and careers than where they left off in the first half. (Things kick off with a one year time jump.) In particular, Mylene Cruz is leaving her good girl reputation behind and trying out a more sexy look. In an effort to make sure she's cast in a film, she sings and performs the song "Toybox" at the Ruby Con club. Unsurprisingly, fans are now wondering how to listen to "Toybox" from The Get Down.
For the first half of the first season, a soundtrack was released that contained the best songs from the show, so it'd be unsurprising if another album was released for the second half as well. Unfortunately, it hasn't happened yet, but it'd be surprising if it doesn't. One of the best things about the show is the incredible music and Herizen Guardiola, who plays Mylene, killed this song. It may even be her best song on the show yet.
However, until the new songs are added to iTunes, fans can thankfully find a clip of the song on YouTube. Though it doesn't contain the full track, it's still enough to dance along to until the full song becomes available.
Though the song is great, what wasn't great was that awkward moment when Mylene realized her father was in the crowd. Coming from a religious family, getting out there onstage in a sexy outfit while guys had their hands all over her was already a big deal. However, doing all that and singing a sexy song in front of her father (who was wearing his priestly cloth), definitely threw her off balance for a second.
Still, after running off stage and into Ezekiel's arms Mylene found the confidence to get back out there, knowing that this was her opportunity to "break free" and keep killing it on stage so she could go after what she wanted. So she went back out there and rocked the stage, proving that she's got what it takes to make it. Though her father may never have approved of her career path, at least Mylene is now comfortable enough to do what she feels is best for her.
If you haven't seen Mylene's amazing performance yet, you can catch it now in the new episodes of The Get Down, which are currently streaming on Netflix.