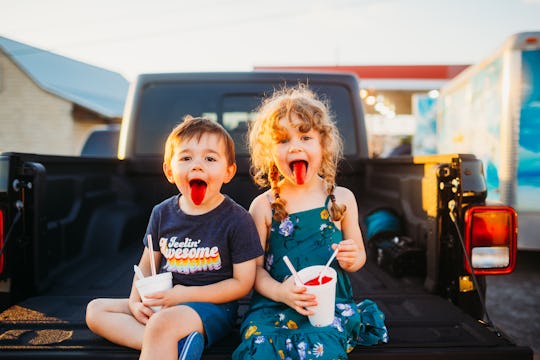 Cavan Images/Cavan/Getty Images
Here's How To Make A Slush Puppie At Home So You Can Get A Frosty Fix Anytime
As the days get hotter (and more humid), the thought of a cool treat starts to sound better and better. Sure, you can stock the freezer with ice pops, but have you ever wondered how to make a slush puppie at home for something a little different? After all, nothing will cool you down quite like a frosty drink!
The original Slush Puppie was introduced in 1970, according to the treat's official website; the company was bought by the ICEE Corporation in 2006 and has only continued to evolve and gain more and more popularity over the years. Essentially, a Slush Puppie (or Slushie, or Icee) is made from shaved ice and flavored with different syrups like strawberry, lemon, raspberry, and more. They're like the drinkable version of a Popsicle, but even better because you can mix up the flavors to create a totally unique (and delicious) drink all your own. A Slush Puppie is exactly the kind of drink you want when you're lounging by the pool (or watching the kids run through the sprinkler) on a hot summer day.
It's always fun to go out on a Slush Puppie-procuring adventure with the kids, but you can get "cool parent" points by knowing how to make the treat at home. All you need to do it is some ice, a blender, and a good recipe.