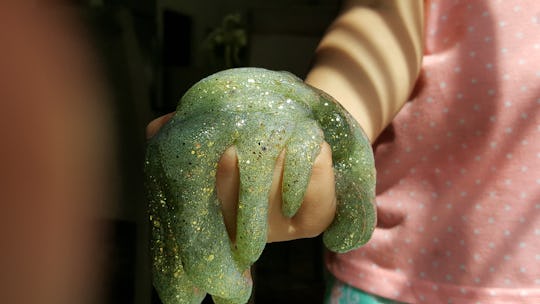 Courtesy of Mishal Ali Zafar
How To Make Halloween Slime For An Ooey-Gooey Holiday Craft
Fads and trends may come and go, but slime is here forever. DIY slime making has oozed its way into everyday, creative playtime. It gives kids an opportunity to use science and imagination to create awesome, tangible works of art that are super fun to play with and a little gross. (What more could kids ask for?) But nothing says Halloween like ooey-gooey, sticky slime, so knowing how to make Halloween slime is a must for a festive, fun DIY.
Honestly, Halloween-themed slime is the perfect way to get your kids into the holiday spirit. The best part about making slime is that you have endless colors and additives to choose from, so you can turn your slime into whatever creepy concoction you'd like. Whether your kid wants to play mad scientist or a witch stirring the slime up in their bubbling cauldron, they're sure to love this creepy, spooky craft. Bonus? It's way easier than carving a pumpkin and won't send pumpkin guts all over your house.
So if you want to know how to perfect the art of Halloween slime, here are some spook-tacular Halloween slime ideas — ranging from cute to straight-out creepy — that'll add tons of ghoulish excitement to your Halloween celebrations.