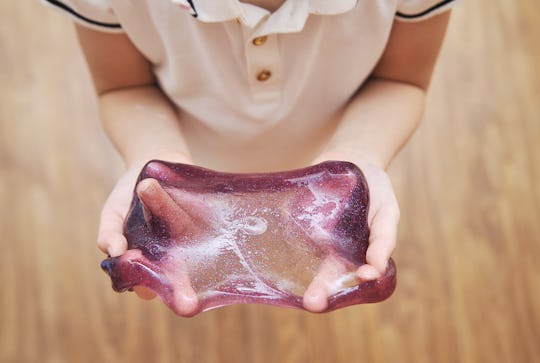 Shutterstock
The 6 Easiest Ways To Make Slime Without Glue
Slime. Somehow the crafters have figured out how to turn glue, borax, and food coloring into something that kids can have hours of fun with. However, some reports have suggested that this blend of ingredients isn't exactly safe for kids, so some are turning to alternate recipes that won't irritate the skin. If you're looking for a super slimy but safe DIY project to keep your little ones entertained, here's how to make slime without borax or glue.
The recent slime craze at one point even made glue pretty hard to find in stores, per Parents. "Glue is the main ingredient in slime – it is what helps create its unique consistency and stretchiness. It's definitely the best ingredient to use," Sara Schiller, co-founder of the recently opened Sloomoo Institute (a slime-themed experiential space in New York City), tells Romper. Without this main ingredient, your slime "won't have the same stretchy, playable qualities that you would using glue," Karen Robinovitz, co-founder of Sloomoo confirms.
More than the glue though, it's typically the borax that causes parents to be alarmed, as it may cause eye and skin irritation and can be even more harmful if kids try to taste it.
Fortunately, it is possible to replace the glue and borax in your slime recipe using other household ingredients. "There are ways to make a version of slime with shampoo and cornstarch (1/2 cup to 1/4 cup respectively) with a little water as needed," Robinovitz explains, but its consistency is more of a goo and much less versatile than if you use glue."
If you are looking for a slime recipe that is as pliable and, well, slimy as the good stuff, there are plenty of safe options out there. Depending on what's at home, you may not have to venture further than your pantry for such ingredients as hand soap, flour, and even bananas. Here are 5 safe slime recipes to try.
This article was originally published on