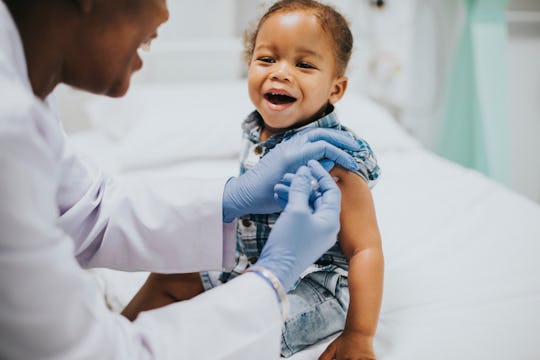 Rawpixel/Shutterstock
14 Ways To Make Vaccines Easier For Kids, According To A Pediatrician
Needles don't bother me, but I still don't love getting my flu shot. Still, I do it every year, and I make sure my kids get their flu shots every year, too. I also make sure my children are vaccinated, so I've absolutely been that concerned parent wondering how to make vaccines easier for kids. I know that when I take them for those essential shots they'll be scared, they'll be sore, they might feel tired and run-down, and they might distrust the doctor at their next visit. But I also know vaccinations are essential to the continued health and wellness of not just my children, but everyone my children come in contact with.
Romper spoke with Dr. Ilana Sherer, a board certified pediatrician and member of the American Academy of Pediatrics, to better understand how parents can make this process easier for everyone involved. Because while no one wants to watch their child cry, it's far easier to endure a difficult doctor's visit than it is to watch your child contract a dangerous disease that could have otherwise been avoided had they received the necessary vaccinations at the recommended time.
Vaccines are 90 to 99% effective, according to the American Academy of Pediatrics, and before they're administered to the public they are reviewed and licensed by the Food and Drug Administration (FDA), as well as reviewed by the Centers for Disease Control and Prevention (CDC), the American Academy of Pediatrics, and the American Academy of Family Physicians. The CDC has a schedule for when certain immunizations should be administered, as well as reasons why someone should not be vaccinated, like if they are allergic, if they're pregnant, or if they have an auto-immune disease. And while prevailing pseudo-science and debunked studies pushed by anti-vaxxers have a small percentage of parents thinking otherwise, vaccinations are safe for the vast majority of the public.
"[Vaccines] protect us and our kids against some of the horrible, untreatable diseases that our parents and grandparents feared," Sherer tells Romper. "We no longer see people suffering from polio, diptheria, and other diseases that used to be commonplace and deadly. Vaccines are the most powerful technological innovation in medicine that we have seen in our lifetime."
Still, bringing your child to the doctor for a shot is difficult. What parents need aren't anti-science, faux-solutions, like delayed vaccination schedules (delayed schedules put children at risk of becoming sick, according to the CDC), but help managing these often difficult, but necessary, doctor visits. So with that in mind, here's how to help make it easier for your kids to receive these incredibly important immunizations: