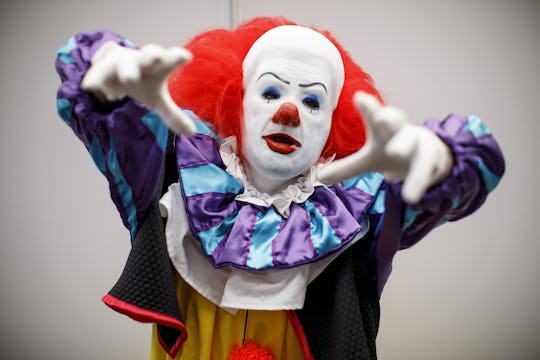 TOLGA AKMEN/AFP/Getty Images
How To Dress Your Baby Like Pennywise From 'It' For A Scarily Cute Halloween
As a horror movie buff, I'm not usually jarred by scary things or disturbing movies. But I would be lying to you if I didn't admit that It stirred a little fear in me when I viewed the new release. Especially considering I haven't seen the original (because, unpopular opinion alert, I've never been a huge Stephen King fan), I had no idea what to expect going into it ... It. So considering how to dress your baby like Pennywise from It could truly be the element that puts your Halloween costume game over the edge this year. Because the only thing creepier than Pennywise is a baby dressed like Pennywise.
Surprisingly, putting together a Pennywise costume isn't as complicated as it may seem, and it's fun to get creative with the elements it includes – like red face paint and creepily-styled red hair. Your baby is going to be the creepy, unforgettable talk of Halloween dressed up like Pennywise, much like this toddler's viral It photoshoot, shared by Bustle. So if you're considering tackling an It-themed costume, Pennywise could be the scariest go-to for you to take on this Halloween. And I think you'll be impressed with how easily you can pull it off.
If you want to perfect the Pennywise look, you're in luck. Check out the steps listed here to get the creepy, spot-on It look for your baby this year.