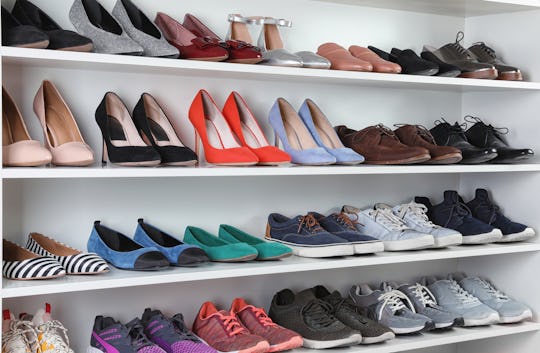 New Africa/Shutterstock
The Best Organizing Solution For You, Based On Your Zodiac Sign
Tackling the overflowing closet, paper-laden desk, or disaster-area playroom isn't what anyone would call a good time, but boy, it feels so good when it's done. The trick is to find the decluttering method that works best for you, and to employ it every time you clean. If you're not sure what your perfect method is, try looking to the stars. There are organizing solutions for every zodiac sign, and knowing your own astrological style can help save you time and hassle when cleaning time rolls around.
Not every organizing method works for everyone, and in fact, it can be counterproductive to try using a strategy that doesn't feel natural to you. Some people thrive on a minimalist technique, while others prefer keeping lots of stuff, but in nice-looking containers. When you think about the personality of each zodiac sign, it stands to reason that an analytical, detail-oriented Virgo would keep things in order differently from an eccentric, different-drummer Aquarius. Trying to make a Gemini and an Aries tidy up the same way would only result in frustration for both.
Maybe you already have the organizing thing figured out, in which case you might find it fun to see whether your sign's profile rings true. Or maybe you're drowning in clutter and don't know where to begin; for you, it couldn't hurt to take a look at your sign's description and give it a try. If the end result is a less chaotic living space, it's all good.