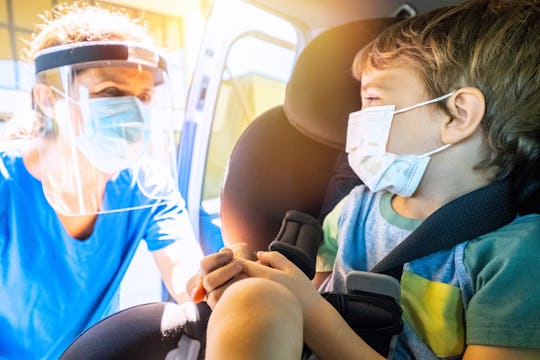 Juanmonino/E+/Getty Images
12 Tips For Prepping Your Kid For A Coronavirus Test, From Moms Who've Been There
As more and more kids get tested for COVID-19, parents are faced with yet another pandemic-specific challenge: getting a child to sit still while a doctor sticks a very long cotton swab into their nostril. To be fair, even grown-ups are less than thrilled at the prospect — so you can't expect kids to be especially cooperative on this one. That's why Romper asked moms who've been through it for their tips on how to prep your kid for the coronavirus test. Armed with this advice, you can make the whole experience a whole lot easier on the both of you.
First, here's what generally happens during a coronavirus test. "The standard test is a short procedure that entails putting an extended Q-tip deep into the nose," Dr. William Haseltine, Chair of the US-China Health Summit and COVID-19 expert, tells Romper in an email. "The head must be tilted back, nose up, and the swab goes very deep into the very back of the nose which is itchy and somewhat irritating. The nose extends back behind the eyes and is much longer than people realize. It is not painful, but it's an unexpected and unusual feeling." The test only takes a few moments, thankfully.
To help alleviate testing nervousness, Dr. Hasletine recommends talking about the procedure beforehand (in kid-friendly terms). "You can explain that this is going to be a procedure where a nurse who will be all dressed up and wearing a mask will take a soft piece of cotton and remove some boogers from the nose and it's important that they sit very still with your head tilted back," says Dr. Hasletine. You can even show pics or videos of people getting the test done (For instance, Chrissy Teigen laughed through her coronavirus test, claiming that it tickled.) Your kid probably won't get the giggles — but with the help of these tips, hopefully they won't shed any tears, either.