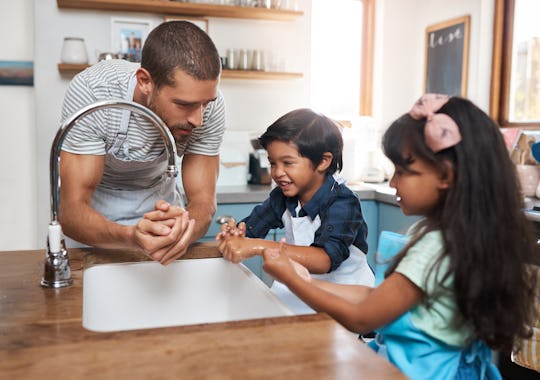 PeopleImages/E+/Getty Images
How To Keep Kids Chill About Coronavirus When Everyone Else Is Panicking
At this point, it is nearly impossible to prevent kids from learning about coronavirus. It's a hot topic and concerns of spread are rampant. When the inevitable happens and they come to you with questions, you'll want to know how to explain coronavirus to your kids when all around them, adults are panicking.
"Remember that your kids take their cues from you. If you are obsessively worried about the coronavirus and talking about it, your kids will likely have anxiety about it, too," Barbara Nosal, PhD, Licensed Marriage and Family Therapist and chief clinical officer at Newport Academy tells Romper. "Managing your own fears and concerns apart from them is important, as security is a primary need for children."
Experts agree that there are several actionable steps parents can take to help kids stay calm despite growing concerns about the spread of the virus. In addition to managing your own anxiety, arming kids with age-appropriate facts, answering their questions, sticking to a routine as much as possible, and limiting media exposure are among the top suggestions from experts.
With plenty of guidance from level-headed parents and a whole lot of antibacterial soap, it is completely possible to keep kids calm despite coronavirus panic.