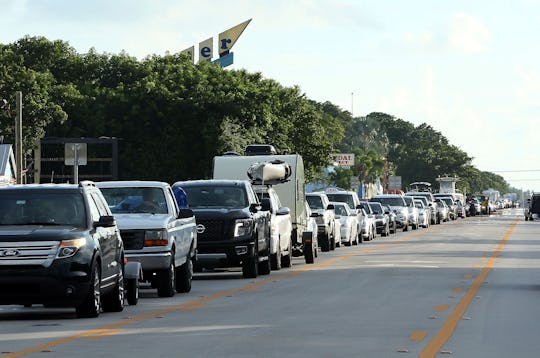 Marc Serota/Getty Images Sport/Getty Images
Here's How To Prepare An Evacuation Bag
Unfortunately, parts of the United States are in a state of chaos at the moment. As Texas cities affected by Hurricane Harvey continue to recover from the storm's wreckage, another storm is making its way towards the United States. Hurricane Irma has already made landfall on many islands in the Caribbean, and is barreling towards Puerto Rico and Florida, where its impact is expected to be seriously damaging. So, as evacuation orders are beginning to go out, you might be wondering what to bring with you as you leave your home behind. Just how do you prepare an evacuation bag? And what should you bring along if you have kids?
If Hurricane Harvey is any indication of what's ahead, those in Irma's path should take evacuation orders as seriously as possible. While not everyone is able to do so, if you and your family can leave, you definitely should. And as Irma makes its way to the East Coast of the United States, it's important to stay informed on what areas are being evacuated. According to The Miami Herald, "Miami-Dade County officials have not issued evacuation orders yet but said the option is still on the table," however Broward county in Florida has issued evacuation orders, and many areas near the coast are expected to do so as well.
Click here to see a map of Florida evacuation zones.
So, if you live in an area that is expecting to be evacuated, or has already been issued orders, here is how to pack a bag:
Each Family Member Should Have Their Own Bag With The Essentials
Of course, every bag you pack should have the essentials. According to the Department of Homeland Security, you should have the following:
One gallon of water per person per day for at least three days, for drinking and sanitation
At least a three-day supply of non-perishable food
Battery-powered or hand crank radio and a NOAA Weather Radio with tone alert
Flashlight
First aid kit
Extra batteries
Whistle to signal for help
Dust mask to help filter contaminated air and plastic sheeting and duct tape to a makeshift shelter in place
Moist towelettes, garbage bags, and plastic ties for personal sanitation
Wrench or pliers to turn off utilities
Manual can opener for canned foods
Local maps
Cell phone with chargers and a backup battery/ portable and fully charged power brick
When packing evacuation bags for you and your family, it's easier to put enough supplies for each person in their own bag. That way, you can be certain that you will all have enough supplies, and that in the event of evacuation, everyone can quickly grab their bag and go.
If You Have Kids, Your Evacuation Bags Will Look A Little Different
Of course, when packing an evacuation bag, it's important to keep in mind that there's really no way of knowing how long you'll be away from home. If you have a baby, make sure you bring enough bottles, formula, wipes, and diapers to last at least three days. For kids, you'll want to try and bring some activities or games that don't require any power as they might get bored.
You should also be packing any prescription medications you or your family takes. Tampons, pads, and other hygiene products are also essential. Other items such as blankets, clothes, and matches are also important, but not as necessary if you can't fit them in your bag.
Above All, Bring Your Family, Your Pets, & Personal Documents
At the end of the day, your main priority is to keep you and your family safe. So, if time is short, just make sure to pack the essentials and get out as quickly as possible. Many pets are left behind in times of disaster, but if you can bring yours with you, you might be saving their lives. And if you have the ability to take a neighbor's pet who might be getting left behind, do so. If you can't take your pet, reach out and see if a friend or neighbor would be willing to.
You should also definitely bring personal documents like passports, social security cards, green cards, and insurance cards with you as those can't be replaced. If you're not able to do so, keep them in an elevated area of your home, locked up in a waterproof safe or container.
However, if you have more time before you need to evacuate, try and bring as many necessary items as possible. Hurricane Harvey proved just how intense storms can be, and with Irma deemed a Category 5 storm, it's better to play it as safely as possibly.
Check out Romper's new video series, Romper's Doula Diaries: