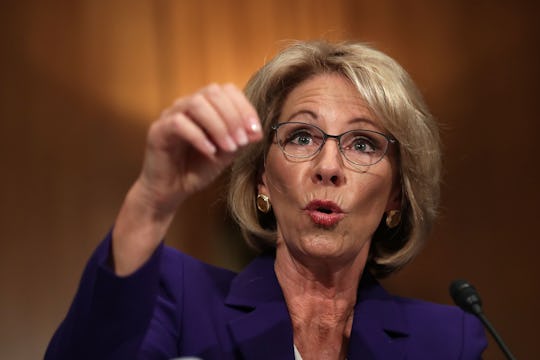 Chip Somodevilla/Getty Images News/Getty Images
How To Protest Betsy DeVos' Appointment
Education Secretary Betsy DeVos was confirmed by the Senate Tuesday after Vice President Mike Pence cast a tie-breaking vote in her favor — the first time in history that a United States Vice President has had to tip the scales for a Cabinet nominee, according to The Washington Post. Though DeVos certainly hasn't been the only nominee to be criticized for her views, concerns about her support of private education, charter schools, and "school choice" resulted in thousands of calls, emails and letters to Senate Republicans urging them to vote against her. It didn't do the trick, but here's how to protect Betsy DeVos' appointment if you're worried about the future of public education in America.
Given that, according to NBC News, approximately 90 percent of school-aged children in the United States attend public school, it's not entirely surprising that DeVos' nomination got so many Americans riled up. In addition to her support of private education and controversial school voucher programs, DeVos has no experience in the public school system, not even as a student (DeVos attended private school, as do her children). During her confirmation hearing, DeVos also seemed to lack an understanding of some of the basic issues surrounding public education — and then, of course, there was the moment when she suggested that making schools gun-free zones would put rural schools as risk for "potential grizzlies," according to Newsweek.
Supporters of DeVos say that she'll still advocate for public schools, and that she'll bring about much needed change that will help disadvantaged students gain access to better education options. The problem? States that already have the kinds of programs DeVos is championing, like vouchers and charter schools, haven't exactly seen the boost to low-income students they were meant to provide. In fact, according to The Atlantic, studies found that most voucher program applicants actually came from wealthy neighborhoods, including many who "already had access to the highest-performing public schools."
In addition to that fairly grim reality, many parents and educators are concerned about DeVos' reluctance to commit to protecting the rights of students with disabilities. And even though the right to an inclusive, appropriate public education is already guaranteed to all children with disabilities, thanks to the Individuals with Disabilities Education Act (IDEA), DeVos didn't even seem to know that it was a federal law, and said she believed the enforcement of IDEA should be up to state and local districts.
Although there isn't an awful lot voters can do to fight DeVos now that she's been confirmed, there are many great options available for supporting public education in the United States — and that's something that could arguably have an ever greater impact on American schoolchildren's futures.
Donate To Advocacy Groups
Even if you're not a fan of DeVos, there is still one really great consequence of her nomination: it has put education front and center as an issue worthy of attention and advocacy. According to The Guardian, Senate Minority Leader Chuck Schumer's office reported that the Senate received as many as 1.5 million calls per day in the lead up to DeVos' confirmation, while a rep for Pennsylvania Sen. Bob Casey said the senator received more than 80,000 letters from his constituents — 900 percent more than in the previous year. Similarly, Virginia Sen. Mark Warner reported receiving 41,000 calls opposing DeVos, while Virginia Sen. Tim Kaine received another 25,000. Then there was Hawaii Sen. Brian Schatz, who claimed in a tweet last week that the number of calls to the Capitol switchboard had been unprecedented.
But it's not just politicians who were feeling the groundswell of public support. Lily Eskelsen García, president of the National Education Association teachers union told Vox that the union had seen a big increase in new supporters:
We have won hundreds and hundreds of thousands of new activists [thanks to DeVos]. And not just teachers, not just NEA members. We're talking about a lot of parents. The disability rights community is up in arms.
Senators may no longer need your phone calls, but there are plenty of other groups who would welcome public support and donations. The American Civil Liberties Union, for example, works to protect the rights of differently-abled people, including rights pertaining to children and students (not to mention a number of other Trump-related issues, like immigration and LGBTQ rights). Then there is the The National Coalition on School Diversity, a network of national and local activists and researchers pushing for government policies that "promote school diversity and reduce racial and economic isolation in elementary and secondary schools." Or the National School Boards Association, which launched the "Stand Up 4 Public Schools" campaign in support of public education.
Help A Teacher Out
Ask pretty much any public school teacher in the country, and they will likely tell you that they could use some help when it comes to ensuring their classrooms have enough materials and supplies. In fact, according to TIME, teachers spend an average of $500 of their own money buying classroom items.
Thanks to DonorsChoose.org anyone looking to support public school teachers in a very specific and useful way can browse the site for projects in need of funding (you can search by topic or location), and can then donate money to help make it happen. Donations are tax-deductible, and can be used towards anything from books and school supplies, to technology or even desks and chairs.
Get Involved In Your Local School Community
Another way to help? Actually get involved in your local school — whether through committees, fundraisers, or even volunteering in the classroom. If you're a parent concerned about making sure your child's public education remains strong, being an active member of the school community is one of the best ways to make a difference on a grassroots level.
Research shows it's a pretty big deal, too. According to the National Eduation Association,
Parent, family, and community involvement in education correlates with higher academic performance and school improvement. When schools, parents, families,and communities work together to support learning, students tend to earn higher grades, attend school more regularly, stay in school longer, and enroll in higher level programs.
Overall, DeVos' appointment is still a big disappointment for many voters, who were hoping her confirmation could still be blocked with enough public support. It's still to be seen exactly what changes DeVos will enact in her new role, but it's also clear that there are still lots of things concerned voters can still do to make sure that public education remains a priority.