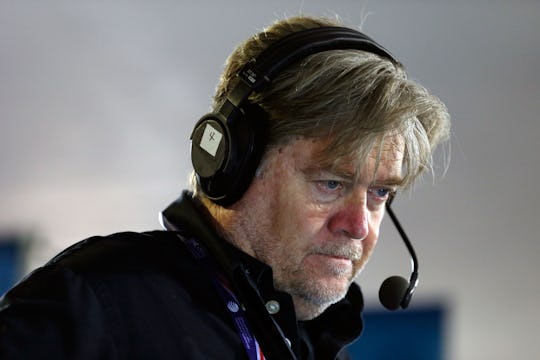 Kirk Irwin/Getty Images Entertainment/Getty Images
How To Protest Steve Bannon's Appointment To Trump's White House Staff
Steve Bannon, President-elect Donald Trump's newly announced senior counselor and chief West Wing strategist, is a lot of things: graduate of Harvard Business School, former Naval officer, former Hollywood producer, former investment banker at Goldman Sachs, former president of Breitbart News (from which he took a leave of absence to join Trump's campaign). But underneath the seemingly impressive resume, he's also a known misogynist and anti-Semite with seriously scary ties to white nationalists. Naturally, Bannon's appointment as a top White House advisor has been met with justified criticism from, well, anyone who even remotely believes in equality. If you'd like to voice your disdain for this terribly ill-advised hiring decision, keep reading to find out how to protest Steve Bannon's appointment to Trump's White House staff.
Just in case you need a refresher first, consider these examples of Bannon's myriad offenses and tell me: Does this kind of man really belong in the president's ear?
In 2007 court testimony, ex-wife Mary Louise Piccard said "the biggest problem [Bannon] had with Archer [a school they were considering for their daughters] is the number of Jews that attend. He said that he doesn't like Jews and that he doesn't like the way they raise their kids to be 'whiney brats.'"
Before working at Breitbart, Bannon was caught on tape calling a coworker who disagreed with him a "bimbo." He also said he wanted to "kick her ass," and "ram [her accusations] down her f---ing throat."
During his time at Breitbart, some of the headlines published under his leadership included: "The Solution to Online 'Harassment' is simple: Women Should Log Off," "There's No Bias Against Women in Tech, They Just Suck at Interviews," and "Birth Control Makes Women Unattractive and Crazy."
Even conservative commentator Glenn Beck thinks Bannon is a "terrifying man," telling his radio audience Monday that:
You know, if people really want to in the press would like to call Donald Trump a racist, you might want to stop on that one and spend a little time on [Steve] Bannon. Bannon has a clear tie to white nationalists — clear tie ... He's a nightmare. And he's the chief adviser to the president of the United States now.
Now that we've established Bannon is a horrible human being, here's how to make your voice heard about his place in the next presidential administration:
The Southern Poverty Law Center: Say No To Stephen Bannon
The Southern Poverty Law Center (SPLC) has launched a petition addressed directly to President-elect Trump. It states in part: "Your pick for 'chief strategist,' Stephen Bannon, has no business working in the White House." Add your name and urge Trump to rescind his appointment of Bannon.
Change.org: Steve Bannon's Racist, Anti-Semitic, Misogynistic Views Don't Belong In The White House
Started by Oregon-based writer, professor, and editor Shaindel Beers, the Change.org petition asks Trump, Speaker Ryan, and the Republican National Committee to affirm that "Bannon's vitriol and divisiveness have no place in the White House." The petition has reached nearly 50,000 signatures in less than two days, exceeding its original goal of 25,000. Will your autograph be next?
Call, Don't Write, Your Congressional Representatives
On Friday, a series of tweets by former Congressional staff member Emily Ellsworth offered advice on how to get your elected representatives to listen to you. According to Ellsworth, reaching out on social media is largely ineffective — so, no, tweeting #StopBannon isn't enough. An old-fashioned phone call is what really gets their attention.
Ellsworth worked for both Utah Reps. Jason Chaffetz and Chris Stewart, and part of her job was to file phone calls, letters and visits from constituents, according to CNN. The registered Republican — who campaigned for Hillary Clinton — told CNN Saturday:
Like a lot of people, I've been reeling from the election. So I thought people might like to know how you mobilize and activate individual communities to reach each member of Congress. I just thought I have this knowledge and I did this for six years and it's probably important for people to know what those specific actions are.
Advice from someone who worked on Capitol Hill is good enough for me. To see who represents you in Congress, visit Whoismyrepresentative.com. Enter your ZIP code to find your representative's contact information and get to dialing! Since presidential advisors like Bannon don't require approval, there's not much Congress can do to stop it — but that shouldn't stop you from making your voice heard.
After all, if former Ku Klux Klan leader David Duke thinks Bannon is an excellent choice, that probably tells you all you need to know.