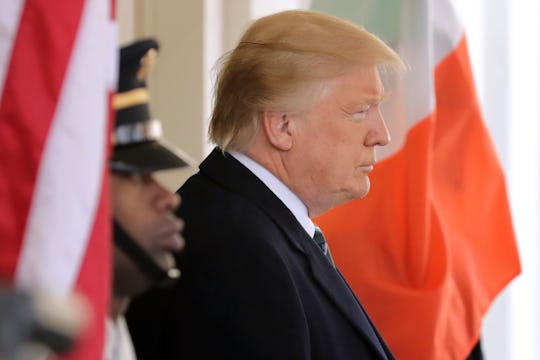 Chip Somodevilla/Getty Images News/Getty Images
How To Protest Trump's Budget Proposal
There are many problems with President Donald Trump's budget cuts, but the biggest one is that kids will be affected by it in multiple ways. These cuts could affect everything from a little one learning numbers from Sesame Street to a teenager being able to afford college, and it's horrible. Here's how to protest Trump's budget proposal.
Trump wants to cut more than 13 percent of the Department of Education's budget, which will have a huge impact on schools everywhere. When schools face federal budget cuts, teachers are fired (which means class sizes increase) and after school and arts programming is often cut. Trump also called for an end to federal funding of The Corporation for Public Broadcasting, which funds PBS and the National Endowment for the Arts, which support early childhood education efforts and kids' abilities to access arts education, respectively, CNN reported.
Those with young children who want to make sure their kids can watch fun, educational programs can support public media by donating. Supporting the Corporation for Public Broadcasting funds PBS, which is home to beloved educational programming such as Arthur and Sesame Street, is crucial. In an interview with Romper, Corporation for Public Broadcasting spokesperson Letitia King said that they "would have to raise approximately 200 percent more in private donations" to replace the federal investment. You can donate to PBS here.
For parents whose kids love to dance or who know their kid's drawings are 100 times better than the Trump Draws Tweets, Trump's move to eliminate the National Endowment for the Arts is especially painful. For those who are afraid that arts education will be a thing of the past, you can sign a petition to show your support. A petition to preserve the National Endowment for the Arts and the National Endowment for the Humanities is available on the White House website. The petition has already garnered the 100,000 signatures needed to get a response from the White House, but there are a ton of other petitions from arts organizations fighting these cuts on the front lines, including Americans for the Arts and The Authors Guild.
You can also join a protest. There are many protests across the country against the Trump Administration's proposed policies, and a few are directly related to Trump's cuts to the arts and education For example, a vigil for poets against plans to end federal funding of arts education took place on Wednesday in New York City, and a March for Arts is coming up in D.C. You search for an upcoming protest near you at the Resistance Calendar.
With budget cuts to education, how federal dollars are allocated will be more important than ever. For those of you with a loved one on their way to college, contact your representatives to reauthorize the Higher Education Act. The bill was signed into legislation in 1965, and strengthens financial assistance for students seeking a college education. The bill increased federal aid to colleges, and created student loans and scholarships, but it expired in 2013 and was only extended through last year. Many of us would not have been able to attend or graduate from college, whether a private university or a community college without a Pell Grant. Ensuring the Higher Education Act is reauthorized is critical for students to be able to receive a college education, so find your local district representative and start calling.