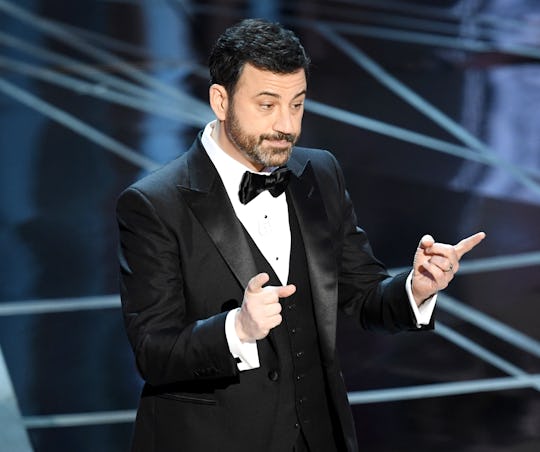 Kevin Winter/Getty Images Entertainment/Getty Images
Re-Watch Jimmy Kimmel's Monologue About His Son
On Monday night, late night host Jimmy Kimmel started his show with an emotional monologue about his son and the importance of affordable health care. The moment sparked a major discussion across social media and went viral before mid-afternoon on Tuesday. If you missed it and are dying to know what all of the fuss is about, there are a bunch of ways to re-watch Jimmy Kimmel's monologue about his son.
Usually, ABC always has shows on-demand and available to re-watch through its own on-demand service, website, or Apple TV and Roku apps. But to watch them, you generally have to have to authenticate your cable subscription.
Kimmel's monologue was so powerful and so popular, that you can access the monologue through the website without an authentication, and it might be the best way to watch the full length, un-edited version right away. The show has also posted the full length video to its YouTube page, so there's no way you can miss it. There are clips of it circulating around Twitter, too.
The story is basically every parent's nightmare, except it has a happy ending, so don't worry, too much. Kimmel himself warned viewers to not get too upset and just leave the tears to him. It's not an easy task throughout the whole, 13-minute long speech about the birth of his second son and the health scare that followed.
Last week, Kimmel and his wife, Molly, welcomed their second baby, William. Everything was fine until a nurse noticed a murmur in his heart, which is pretty common, but Billy was also a "little purple," which is not common. So they decided to run some tests to see what was up. After a lot of tests and worrying, Kimmel's doctors figured out that it was a heart defect called tetralogy of Fallot with pulmonary atresia. Basically, Kimmel said, his son's "pulmonary valve was completely blocked, and he has a hole in the wall between the left and right sides of his heart."
Luckily, they were able to get Billy to the Children's Hospital of Los Angeles and doctors were able to perform open heart surgery on the little guy, and he'll be OK. He has to have another surgery in a few months and then another one again when he's a teen to replace the valve. So, he's healthy now, but was born with a congenital heart defect that he will likely that have to manage throughout his life. (This happens more than you think.)
Kimmel used his story to encourage people to donate to the Children's Hospital, which is always a good idea. But he also wanted to talk about health care in general. Kimmel reminded viewers that, last month, President Trump proposed an almost $6 billion cut to the National Institute of Health budget, which was fortunately promptly rebuffed by Congress with a $2 billion boost. Kimmel also reminded his viewers that until a few years ago, people with pre-existing health conditions, like Billy, had trouble accessing and affording healthcare.
Kimmel explained,
You know, before 2014, if you were born with congenital heart disease like my son was, there was a good chance you'd never be able to get health insurance because you had a pre-existing condition. You were born with a pre-existing condition and if your parents didn't have medical insurance you might not live long enough to even get denied because of a pre-existing condition. If your baby is going to die and it doesn't have to, it shouldn't matter how much money you make.
Trump has promised that the newest version of his healthcare bill will guarantee that people with pre-existing conditions are covered, though there are many Republicans who don't seem to agree. Just this week, Alabama Rep. Mo Brooks said that people "who lead good lives" shouldn't have to pay for people who aren't as healthy, ostensibly because they don't lead lives that are as "good" as everyone else. But under that logic, infants like Billy Kimmel wouldn't be protected from pricey health plans.
So it was extra important that Kimmel was able to share his family's story just when this debate about coverage for people with pre-existing or chronic conditions is heating up. "This isn't football. There are no teams. We are the team. It's the United States," Kimmel said. Saving lives doesn't have to be a partisan issue.
If people and politicians watch Kimmel's emotional monologue and at least consider making healthcare affordable for every baby, and child, and adult, the state of American healthcare might eventually get a little better than it is now.