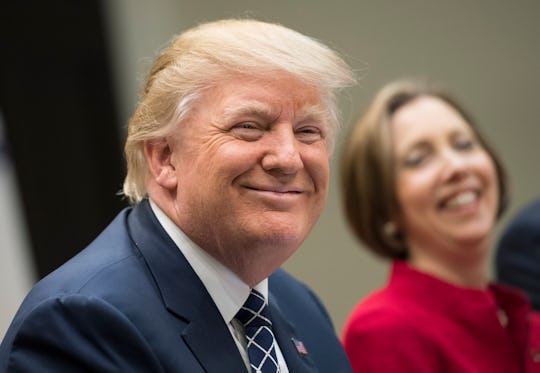 Pool/Getty Images News/Getty Images
Here's How To Read Donald Trump's Tax Returns
While most of the Northeast hid under the cover of blankets on Tuesday, March 14, someone (or some people) were working hard to leak President Donald Trump's tax returns to the media. So now that the return from 2005 is out in the open, here's how to read Donald Trump's tax returns. Speculation on what's hiding (if anything) in Trump's tax returns have followed him since the early days of his presidential campaign. At several points on the campaign trail, Trump pointed out that he couldn't share his tax returns because he was under audit. Of course, he promised to release his returns as soon as the audit had been completed. Unsurprisingly, Trump changed his tune two days after the inauguration. Appearing on The Week, Kellyanne Conway made clear that Trump would not be releasing his returns because people "don't care." Conway continued:
The White House response is that he's not going to release his tax returns. We litigated this all through the election. People didn't care. They voted for him, and let me make this very clear: Most Americans are very focused on what their tax returns will look like while President Trump is in office, not what his look like. And you know full well that President Trump and his family are complying with all the ethical rules, everything they need to do to step away from his businesses and be a full-time president.
But it seems like all that has changed.
Via an anonymous source, the 2005 tax returns were leaked to David Cay Johnston, and as Rachel Maddow teased the information in the opening bit of her segment, other media outlets seized the opportunity to publish the information available in the president's returns. The information obtained by DCReport.org and David Jay Cay Johnston include the president's 2005 1040 form. Though so little is known about who is behind the leak and why, the news rightly took over the airwaves. But now that Trump's taxes have been made public, where can people go to read them? And what should they be looking for?
The returns can be read on Johnston's website, DCReport.org, and TheDailyBeast.com has also published a synopsis of the information available in the 1040 online as well. CNN has also published excerpts of the information in Trump's 1040. An exclusive look at the return was also published on Rachel Maddow's blog on MSNBC, The Maddow Blog.
Following the news, the White House released a lengthy statement condemning the leaked information:
Before being elected President, Mr. Trump was one of the most successful businessmen in the world with a responsibility to his company, his family and his employees to pay no more tax than legally required.
That being said, Mr. Trump paid $38 million dollars even after taking into account large scale depreciation for construction, on an income of more than $150 million dollars, as well as paying tens of millions of dollars in other taxes such as sales and excise taxes and employment taxes and this illegally published return proves just that.
The White House statement even went so far as to call out the "dishonest media" for their "desperation" for ratings.
Even though the 1040 document represents just one piece of the puzzle — and even though the information inside is more than 12 years old — many suspect that this is just the beginning.