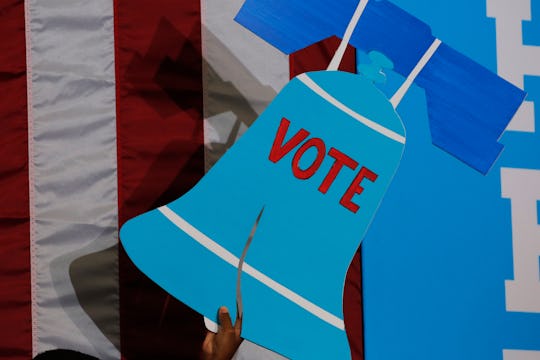 DOMINICK REUTER/AFP/Getty Images
How To Register To Vote In Pennsylvania, Ahead Of The Deadline
As the interminable election season finally, slowly begins to wind down, many of us are looking towards the end result: actually voting for the next president of the United States. And this year, that vote feels more significant than it has in some time. There have rarely been two more diametrically different candidates than Democratic nominee Hillary Clinton and Republican nominee Donald Trump, and their polling numbers remain close. Your vote counts every year, of course, but this year... every vote seriously counts. So how does one go about registering to vote in states like Pennsylvania? The deadline to get signed up is closing in.
Luckily, Pennsylvania Gov. Tom Wolf has introduced a more streamlined way to get registered as a voter in 2015. An online registration application, register.votesPA.com, was introduced as a way for eligible citizens to exercise their right to vote. According to Gov. Wolf:
Online Voter Registration is about making the voting experience more convenient and more accessible. It is about giving citizens an easier way to exercise their right to vote and establishing a clearer connection between the political system and the citizens. Online voter registration is secure, it improves accuracy and will reduce costs for counties by cutting down on time-consuming data entry.
The online voter registration site is available in Pennsylvania in both English and Spanish, and allows currently registered voters to update information like address changes, name changes, and party affiliation. Registered voters can also use the site to ask for assistance when heading to the polls.
While some voters might be hesitant to register with the online voter registration service, Pennsylvania Secretary of State Pedro Cortés said the new system is meant to be convenient and efficient for both voters and election staff.
As elsewhere, Pennsylvanians have grown accustomed to doing business online, whether it is shopping, banking or filing their tax returns. As a natural extension, they want the convenience of registering to vote using their own computer or mobile device. Online voter registration makes the process more accessible and accurate.
The deadline for Pennsylvanians to register to vote in the November election is Oct. 11. Those who would prefer not to register online should bring government issued photo identification to any Department of Motor Vehicles in the state, any photo license center, or other government agencies.
To be eligible to vote in Pennsylvania you must:
Have been a U.S. citizen for at least 1 month before the next election.
Be 18 years old by the next election.
Have been a resident of Pennsylvania and the district you wish to vote in for at least 30 days before the next election.
If you're ready to register right this moment and can't wait any longer, check out Romper's Rock the Vote widget below; In collaboration with a handful of other brands and outlets, Romper and its sister site Bustle are working on a campaign called #OurVoteCounts to get 100,000 women registered to vote this October — and aside from offering an easy to use online registration form like the one below, the team will also be stopping at different locations across the country to help get people signed up that way too. Read on to get started:
So go make your voices heard, Pennsylvania. (Preferably before that looming deadline of Oct. 11, of course.)