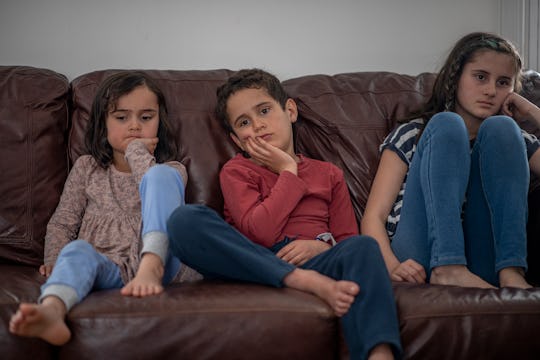 FatCamera/E+/Getty Images
How To Relieve Your Child's Stress In 10 Minutes, Based On Their Zodiac Sign
Parents know all too well that stress isn't healthy. They can even, in many cases, identify what's causing their feelings of anxiety and deal with them accordingly, but the same can't be said for children. Furthermore, the tools adults use to manage stress might not be what kids need. There's no one-size-fits-all solution, of course, but astrologers believe you can relieve your kid's stress by taking their zodiac sign and making a few modifications throughout the day.
The American Psychological Association says parents should pay attention if their child has unexplained headaches or stomachaches, begins acting out in ways that are unusual for them, or starts saying negative things about themselves or others. No matter how old or "mature" you think they are, all of these can be signs your kiddo needs to decompress.
When it's obvious that your kids need to decompress, a few minutes of stress relief can help. A small 2014 study in the Journal of Developmental and Behavioral Pediatrics analyzed the effectiveness of a stress-management activity, in this case reading a book, and found that just 10 minutes a day was enough to decrease anxiety in children and help them cope with stress better. The activity that's right for your child will depend on their personality.
Is your kid an energetic Aries? A routine-craving Capricorn? Maybe a sensitive Cancer? Donna Stellhorn, astrologer and feng shui expert, and Kyle Thomas, pop culture astrologer, tell Romper in separate interviews that the secret to helping your kids de-stress might be written in their stars. They also recommend some quick and easy at-home activities kids can do to alleviate some of the negative feelings they are feeling.