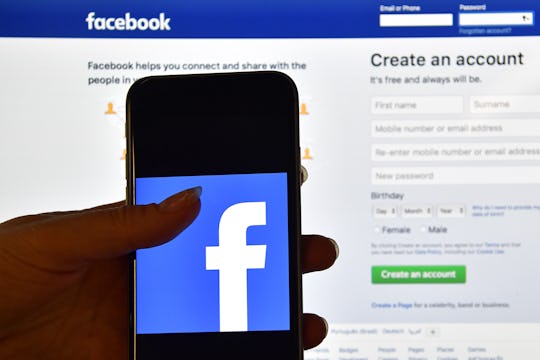 Carl Court/Getty Images News/Getty Images
How To Report Fake News On Facebook, If You're As Fed Up As The Rest Of Us
If you're like most rational Facebook users, you've likely had it up to here with some of fake news stories shared on Facebook. Even if you consider yourself a force for good across the interwebs who always comments and informs that one high school friend that, no, there's actually no new report that says President Obama was born abroad, you can't fact-check everyone on Facebook. Luckily, you can report fake news on Facebook, and it's an easy way to help stop the spread of misinformation on social media.
Facebook is currently working on a whole host of solutions to stop fake news in its tracks, and make fake news easier to report and hide. "We take misinformation seriously," Facebook CEO Mark Zuckerberg wrote in a public post on Saturday. "Our goal is to connect people with the stories they find most meaningful, and we know people want accurate information. We've been working on this problem for a long time and we take this responsibility seriously. We've made significant progress, but there is more work to be done."
Facebook is now working to detect fake news more easily, make it easier for users to report fake news, set up third-party verification, and label possibly fake news for users. For now, however, here's how you can report fake news to Facebook so that it's flagged for follow-up.
Select The Drop-Down Menu
Up there, in that top-right corner of a post, you'll see a small, grey "V." Click it and it will open up a drop-down menu.
Select "Report Post"
You're on your way. Just a few more clicks to go.
Tell Facebook This Fake News Story Doesn't Belong
When asked what's wrong with the post, select "I think it shouldn't be on Facebook," then click "Continue."
Specify That The News Is Fake
Remember, there's a big difference between "I don't like this news," and "This news is blatantly false and should be called fiction."
Ta-Da! It's Been Reported
Congratulations, you've reported the fake news! After that, Facebook even gives you a few more options to help preserve your sanity. You can block the fake news source, so that you can pretend they don't exist altogether; you can hide all of their posts (goodbye, daily source of rage in your Facebook feed!); or you can message them and let them know they may have accidentally misinterpreted a fact or two in their article.
Facebook may be working on eliminating fake news, but it still has a long way to go. In the meantime, you can take matters into your own hands and help stop the spread of fake news. Because you know it's not just that one high school friend who's swallowing false news stories hook, line, and sinker.