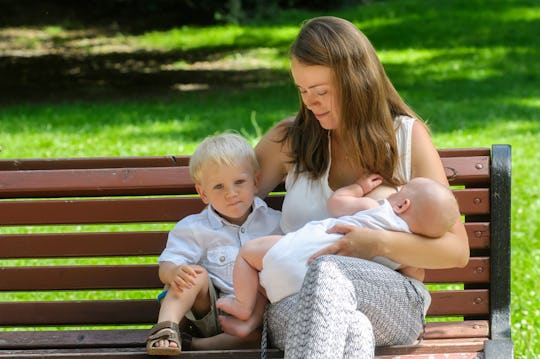 Vitaliy Hrabar/Fotolia
How To Respond To Creepy Things People Say To Breastfeeding Moms
People love to voice their opinions about your parenting decisions, but nothing beats the comments people say to breastfeeding moms. Not only are they often rude or demeaning, but sometimes they are seriously creepy. I personally have a hard time dealing with someone saying the first thing that comes to mind, but if you know how to respond to creepy things people say to breastfeeding moms, you can shut them down very quickly.
Because in reality? There is absolutely no reason for anybody to comment on you breastfeeding your child, especially if it's a creepy statement. What matters is that you're feeding your baby and if the rest of the world could get on board with that, you wouldn't need to know how to handle the creeps out there. But unfortunately, if you're a breastfeeding mom, there's a chance you're going to need one of these 13 responses at some point. Not only do people think they are allowed to speak their mind, but I think most of them either expect you to be ashamed, embarrassed, or to agree with their statement.
Well mama didn't raise no fool, did she? So put the creepy talkers back in place with any of these 13 responses. Hold your head high, keep feeding your baby, and make those people feel as small as they are for having the audacity to say anything to you about breastfeeding your child.