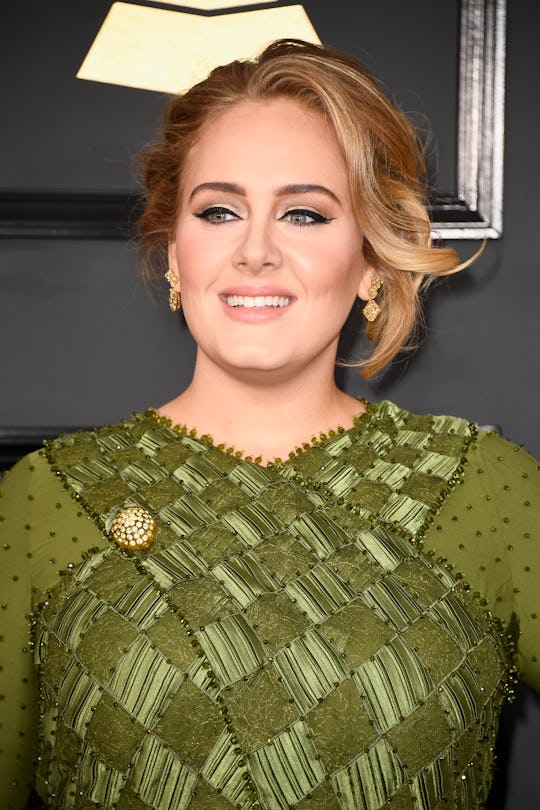 Frazer Harrison/Getty Images Entertainment/Getty Images
Rewatch Adele Sing "Hello" At The Grammys RN
For some of us, Adele is the soundtrack for our stories of heartbreak. She's also the soundtrack to our stories of new love, of strength, of cooking dinner for our guests on a Saturday night. I refuse to be an Adele apologist, and so should you. I love her, and so do you. Which is why it's important to know how to rewatch Adele's performance at the 2017 Grammys, because it was exactly as perfect and moving as we all knew it would be.
After Adele fans went bananas last year because her album 25 wasn't nominated for any Grammys, they found they could finally rest easy this year: The fabulous British crooner is up for five Grammys now that her album was eligible, which had us all breathing a sigh of relief until we realized something terrible; Adele would be going toe-to-toe with Beyoncé's stunning visual album Lemonade. Both albums are up for Best Album of the Year. So thanks, Grammys, for forcing us to choose between our two queens. Why don't you just ask me which of my children I love more while you're at it? Impossible. It's part of the reason why I decided to focus only on the performances for the night. And I was amply rewarded for my sage decision. Adele opened the Grammys with "Hello," looking like a queen and, naturally, just killed it.
I know; her performance just ended and you already want to watch it again and again. You want to make yourself a little nest and just hit the replay button on Adele. It's OK... we all do.
To rewatch Adele belt out "Hello" at the Grammys, you can hit the Grammys website or check out their Youtube channel. You'll also be able to watch behind-the-scenes stuff like interviews, which I sometimes find is the best part.
Of course, you can watch the video right here if you'd like:
If you're live-streaming the Grammys, you can always rewind to the beginning of her performance as well. That is, if you have the emotional fortitude to do anything after her performance.
I know there's been a whole lot of talk this year about the relevance of the Grammys. Justin Bieber, Kanye West, Frank Ocean, and Drake didn't even show up (although Drake is performing in England, the others have reportedly decided to boycott the Grammys this year). But if you take away the politics, the "showdowns" between artists, and the drama... you get to sit back and appreciate a beautiful performance that might not have otherwise existed on a dismal Sunday night.
Ain't life grand?