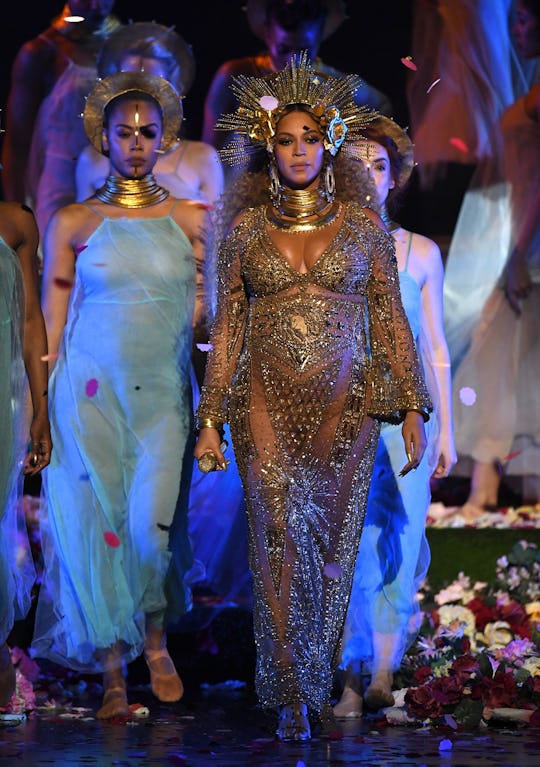 Kevin Winter/Getty Images Entertainment/Getty Images
How To Rewatch Beyonce's 2017 Grammys Performance
Three members of the Knowles family graced the Grammys stage on Sunday night and, no, it wasn't in a Destiny's Child revival. Beyoncé, pregnant with twins, slayed everyone's existence in a totally dreamy way. Here's how to rewatch Beyoncé's performance at the 2017 Grammys, in the event that you want to sing along or maybe just gawk at what a perfect, unearthly goddess Queen Bey truly is.
Featuring music from Lemonade, Beyoncé's female and mother-empowering show was totally enigmatic. It featured a flower-covered stage full of angelic-looking women, clad in white, yellow, and gold. Beyoncé's baby bump was also in attendance, too, as she stayed seated while singing "Sandcastles."
The life-altering performance is up on YouTube (see below), but if you want a more, um, official way to re-watch, you might need to get a CBS All Access account. It sounds extra, but it could totally be worth it. If it seems like too big of a commitment, you could always create your account, use it for the one-week free trial, then go ahead and cancel it before you're charged. Your next best bet might be checking in on Beyoncé's Vevo account.
If the YouTube links are removed, there are also full videos of the performance on Twitter:
And if you need to refresh your memory of just how great Bey is, historically, take the time to review Beyoncé's best Grammy performances over the years. Remember how 2004's "Dangerously In Love" featured an elegant tableau of dancers, a glittering ballgown, unreal a cappella riffs, and a dove landing on Beyoncé's arm? Or 2010's iconic, military-inspired "If I Were A Boy" anthem? And how could anyone forget when mom and dad's "Dangerously In Love" steamed up our TV screens in 2014? Seriously, there are some astoundingly hot performances that are totally worth reviewing, while you wait for the newest one to buffer.
Bey's performance wasn't the only legendary opportunity of the evening. Holding more Grammy nominations than any other female artist (a staggering 62), and 20 wins prior to Sunday night's events, the evening showcased the opportunity for eight wins, propelling her ahead of leader Allison Kraus' 27 total awards. Winning all of her 2017 nominations would also be record-breaking. Certainly, fans and critics alike could see it coming; Her visual album Lemonade had an insane reach, despite (or maybe perhaps because of) its dropping out-of-the-blue.
OK, so what are you waiting for? Get your All Access account and pray to Beysus that the footage will be uploaded ASAP.