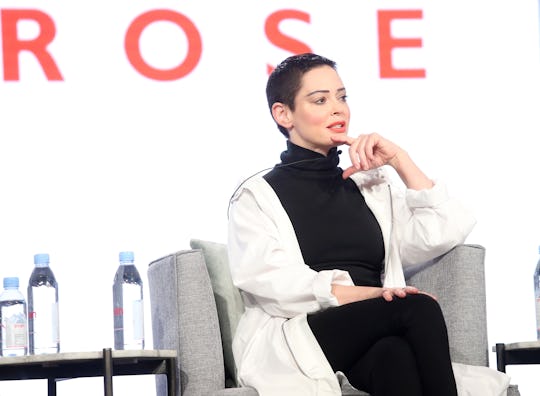 Frederick M. Brown/Getty Images Entertainment/Getty Images
Here's How You Can Rewatch 'Citizen Rose'
The E! limited series Citizen Rose follows actress Rose McGowan as she shares her story of surviving sexual assault during her career in Hollywood. The show makes its two-hour debut on Jan. 30, with the remaining episodes airing in the spring. But if you missed its premiere (or your DVR betrayed you by not recording it), then you may be wondering how to rewatch Citizen Rose so you can be prepared when the rest of the episodes are finally available.
On the E! website, all you have to do is enter your TV provider information and sign in to be able to watch episodes of E! shows either live or shortly after they originally aired. You might be able to find Citizen Rose On Demand on your TV, too. But if you don't have a television service provider (or even a TV for that matter), then there are other options. You can try Hulu, which often has E! programs available to watch a day or so after they premiere. Eventually the series may find its way to other streaming platforms, but going straight to the source on the E! site or checking out Hulu are your best bets for the days following its debut.
McGowan's activism plays a part in the series, as does her allegations of sexual assault against Harvey Weinstein. Countless accusations have been made against Weinstein after an explosive report in The New York Times came out back in October, depicting three decades' worth of alleged sexual misconduct. In a statement that was shared with Romper via Weinstein's lawyer, Lisa Bloom, Weinstein responded to the allegations and revealed that he would be taking a leave of absence from his company, adding:
I came of age in the ['60s] and ['70s], when all the rules about behavior and workplaces were different. That was the culture then. I have since learned it's not an excuse, in the office — or out of it. To anyone. I realized some time ago that I needed to be a better person and my interactions with the people I work with have changed. I appreciate the way I've behaved with colleagues in the past has caused a lot of pain, and I sincerely apologize for it.
After McGowan later alleged on Twitter that Weinstein "raped me," his reps released a statement, as reported by Entertainment Weekly, in response to the claims, stating that "Any allegations of non-consensual sex are unequivocally denied by Mr. Weinstein."
While McGowan does tell her side of the story on Citizen Rose, Weinstein's name is not actually ever mentioned, according to USA Today. Instead McGowan refers to him as "the monster" because, as she said in an interview with Vanity Fair, "I've had this giant monster strapped to me for 20 years. So many women have been strapped around him. He ate so many of our souls that he couldn't tell which way was which. He's always been gunning for me. But that's OK — I've been gunning for him, too."
In Citizen Rose, McGowan also discusses the culture of silencing women that has existed for what feels like forever, as well as her upbringing in the Children of God cult. But in addition to exploring her past, the show will catch up with her present. It will address some of her more controversial statements (including her criticism of the all black ensembles worn at the Golden Globes as a silent protest of sexual assault), her recent arrest, and the release of her upcoming memoir, BRAVE.
In a statement for Harper Collins, McGowan said, "My life, as you will read, has taken me from one cult to another. BRAVE is the story of how I fought my way out of these cults and reclaimed my life. I want to help you do the same." Before her book is released, Citizen Rose is the best way to hear McGowan share her past experiences while she supports the ongoing movement to end harassment. And if you miss it, there are plenty of ways to catch up.
Check out Romper's new video series, Romper's Doula Diaries:
Watch full episodes of Romper's Doula Diaries on Facebook Watch.