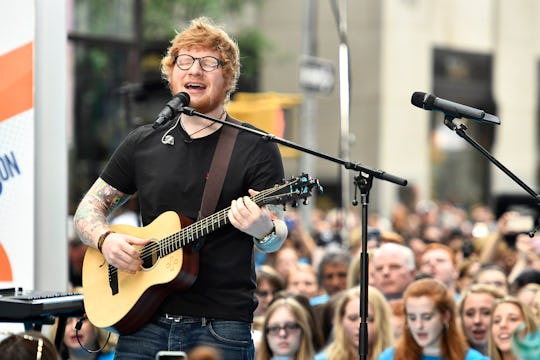 Dimitrios Kambouris/Getty Images Entertainment/Getty Images
How To Rewatch Ed Sheeran's 'Game Of Thrones' Cameo
A lot happened in the Season 7 premiere of Game of Thrones, but one thing that caught the attention of fans was the guest appearance of Grammy-winning singer Ed Sheeran. Naturally, Sheeran sang during his appearance on the show and it's not surprising that some fans want to listen to his song again and again. Here's how to rewatch Ed Sheeran's Game of Thrones cameo.
The easiest way is to just rewatch the episode itself, which can be found on HBO Go, HBO Now, and on demand if you have cable. However, if you don't want to scroll through the whole episode just to get to this one scene, you can find it on YouTube. The one minute clip includes Sheeran's amazing vocals as he sings what he later tells Arya is a "new song."
For fans who read the books, they may have a recognized the lyrics. The song, titled "Hands of Gold," first appeared in the third book of the series written by George R. R. Martin. In the books, the song was written by Symon Silver Tongue, who knew about Tyrion's relationship with prostitute Shae (who he killed along with his father in Season 4). Symon used the song to blackmail Tyrion, but his plan failed and Tyrion had him killed.
On the show, Sheeran played a Lannister soldier, and some fans believe the use of the song could hint at dissent amongst the Lannister ranks. In this case, rather than the song being about Tyrion, it's actually possibly being used to talk about Jaime, who literally has a hand of gold.
It's known by pretty much everyone in Westeros that Jaime and Cersei are in a relationship. Or, at least, they were. Their relationship status seems to be up in the air right now. Regardless, these two have gotten away with their incestuous relationship for years, but perhaps the lower Lannister families are turning on them now. Surely, Cersei's stunt with the wildfire didn't just kill her enemies, it also killed some innocent people too. Some may not be too happy about that.
Whether or not Sheeran's song hinted at a family rebellion, many fans are wondering if Sheeran will show up in the next episode as well. Arya was still with the group at the end of the episode and she could remain with them as they head to King's Landing. If that's the case, Sheeran may get even more screen time, though same fans, who weren't all that excited about this cameo, probably won't be too happy about that.