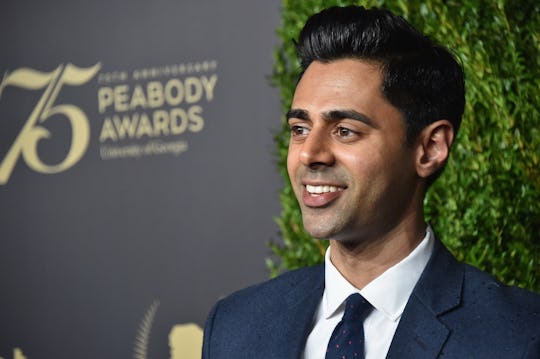 Mike Coppola/Getty Images Entertainment/Getty Images
How To Rewatch Hasan Minhaj's WHCD Roast
On Saturday, Washington D.C.'s journalists and media gathered at the Washington Hilton hotel for its annual White House Correspondents' Dinner. Hosting the shindig was The Daily Show senior correspondent Hasan Minhaj. Even though this was the first time Minhaj has hosted the event, his presence as a first generation Indian-American and Muslim was a statement in and of itself during the first White House Correspondents' Dinner during the Trump administration. President Trump himself was noticeably absent from the event. Here's how to rewatch Hasan Minhaj's White House Correspondents' Dinner skit, because it's a powerful and important watch — in addition to hitting all the right comedic notes.
Minhaj opened with jokes about his obvious ethnicity and Trump's travel ban; he was met with much laughter by the sold-out audience of media and journalism professionals. Some of the highlights from his skit included calling Trump out for not being at the dinner to face his critics, but also made several important points about the role the news media has played in feeding the cultural flamewar of his presidency.
There were several live streams of the White House Correspondents' Dinner on Saturday night, and plenty of folks on social media shared clips of the night as well. But in case you missed the main event, here's how you can rewatch the entire White House Correspondents' Dinner, as well as Minhaj's hit or miss roast of the president.
C-SPAN will re-air the entire White House Correspondents' Dinner at midnight Eastern Time on its cable network channel Saturday night; Minhaj's appearance starts at about an hour into the program. The C-SPAN video of the White House Correspondents' Dinner was also made immediately available on its website and can be watched again on C-SPAN's YouTube channel as well. (Again, skip ahead to about 52:40 in the YouTube video.)
Of course, if you don't have the time to sit and watch Minhaj's brutal but important take on the media, Cosmopolitan has you covered with a roundup of some of Minhaj's most powerful remarks from the night.
And if you only have time to digest Minhaj's skit in quick sound bites, here are some of the best moments from his White House Correspondents' Dinner remarks as captured and shared on social media. On free speech and the freedom of the press, Minhaj said:
And of the strange times in which we live:
No matter how you end up rewatching Hasan Minhaj's White House Correspondents' Dinner skit, you'll definitely want to make sure you do. There's a lot to unpack between quips about the president, Sean Spicer, and CNN — and his messages about the responsibility that the media has in being a voice of reason for the people are especially important.