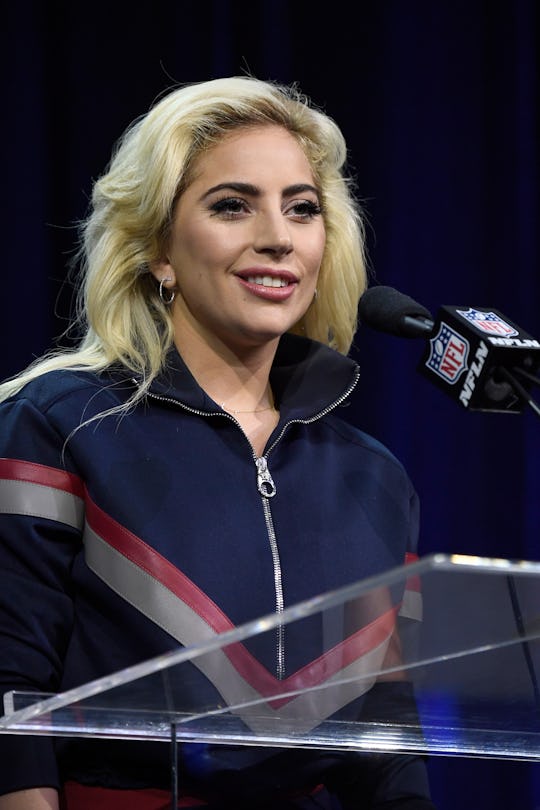 Frazer Harrison/Getty Images Entertainment/Getty Images
Watch Lady Gaga's Halftime Show Again & Again
I've been busy with Super Bowl LI prep at my place the last few days. I've been buying all the stuff to make a bunch of dips, a big pot of chili... the usual stuff. Because I like to be prepared, just like Lady Gaga. While I've been making queso dip, she has been getting ready to take over the world with her Super Bowl halftime performance. So, you know, samesies. Because we know it's going to be epic, it's important to find out how to rewatch Lady Gaga's Super Bowl performance. Just in case you have to pee or something and end up missing one of her mic-drop moments.
In the days leading up to the Super Bowl, fans have been wondering whether or not Gaga would "get political" during her halftime performance. Gaga has a history of political activism, and considering the heaps of controversy in the weeks since President Trump took office, some have been expecting her to use her platform to speak out against him. But at a press conference in Houston on Thursday, Gaga demurred. She told reporters that she plans to showcase an "athletic" performance at halftime, and will celebrate the "spirit of inclusion."
When asked by a reporter if she would attempt to unify Americans (so really, no pressure), Gaga responded:
Well I don't know if I will succeed in unifying America; you'll have to ask America when it's over. But the only statements I will be making during the halftime show are the ones I have been consistently making throughout my career. I believe in a passion for inclusion, I believe in the spirit of equality, and the spirit of this country is one of love and compassion and kindness so my performance will uphold those philosophies.
Sorry; why can't she be president? Have we considered this option?
Whether Gaga will call out President Trump and his antics for her Little Monsters or utterly ignore him (which I sort of think would be amazing; he probably has his "Lady Gaga is overrated" tweet locked and loaded. He won't know what to do with himself if he's hit with radio silence), the show is obviously going to light up our grey world. So how do you go about seeing it again and again?
Gaga was the first performer to go live on Periscope to share her backstage rehearsals with fans, so it's not out of the realm of possibility that she will do the same with her halftime performance. You can also stream the game on Fox Sports Go if you have Amazon Fire, Xbox One, Apple TV and want to get a second look at our Joanne. Of course, YouTube is always an option if you were so spellbound by her performance the first time around you missed something huge.
One thing we know for sure; Lady Gaga is good to her fans, and she will make sure you can watch her performance again and again. So sit back, relax, and enjoy the show.