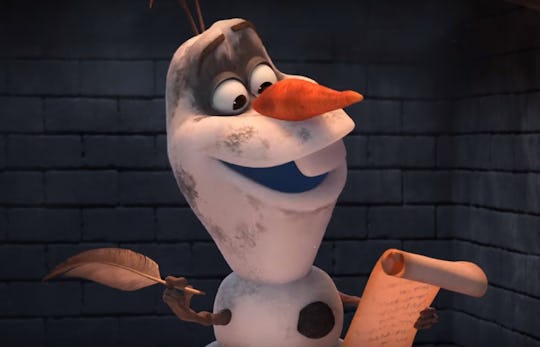 Walt Disney Animated Studios
Here's How To Rewatch 'Olaf's Frozen Adventure'
When Olaf's Frozen Adventure aired on ABC after being shown in theaters for a limited time, it was a hit, which is only natural, since Frozen is still earning new fans years after its initial release. But now that the TV premiere has come and gone, you're probably wondering how to rewatch Olaf's Frozen Adventure again, and you definitely aren't alone. Even if you saw it when it aired in theaters or on TV, there's no reason not to want to add it to your roster of holiday movies that you play almost on a loop during the holiday season — and you might be able to do just that.
According to ABC.com, Olaf's Frozen Adventure was added as part of Disney/ABC's own 25 Days of Christmas event, which includes many of the ABC comedies' holiday special episodes. That means that the Frozen TV special will air again on ABC on Tuesday, Dec. 19 at 8 p.m. EST. and is even available to stream on ABC.com and the ABC Go app, provided that the stream is available in your area and with your cable provider.
Since it's still airing on TV and available from ABC.com specifically, the TV special isn't yet available to purchase on iTunes or Amazon Video. However, since Frozen itself is enjoyed year-round, the Disney short could still be made available to buy or rent even after Christmas is over, especially with the viewers it drove to ABC when it originally aired on Dec. 14.
Olaf's Frozen Adventure brought in almost 5.67 million viewers, which is pretty close to the 6.19 million from Football Night in America pre-game show and really, not that far off from the 8 million that Thursday night football drew in. So it's not really all that surprising that ABC decided to bring Olaf's Frozen Adventure back to TV for another airing, especially since it's the week before Christmas.
The 22-minute short brought back all of the characters that adults and kids alike fell in love with from the original Frozen movie — only this time, it followed the ever adorable Olaf (voiced by Josh Gad once again) as he set out to learn different holiday traditions to bring back home with him for Elsa and Anna. If all you want to do is rewatch all of the best moments from the short, though, there are already a few different video compilations on YouTube to satisfy that urge and also enjoy some of the new music from Frozen 1.5. Because yes, there will be an actual Frozen sequel in 2019, so in the meantime, rewatching Olaf's Frozen Adventure is the perfect way to get through the long wait.
But since it's scheduled to be a big theatrical release and continuation of the original story, it's sure to be worth the wait. Despite the fact that the Frozen short was cut from Coco this fall, the amount of viewers of the TV premiere show how much people still love the Frozen universe.
This follows closely with the success of the Trolls holiday special which aired on NBC back in November, so if these are becoming more of a thing now, I'd gladly swap out some of the older classics for them. With such lovable characters and captivating storylines, this is one holiday special that is perfect for the entire family. I plan on making it a must-see in my household from here on out. After all, is there anything better than Olaf and his love of warm hugs?
Check out Romper's new video series, Romper's Doula Diaries:
Watch full episodes of Romper's Doula Diaries on Facebook Watch.