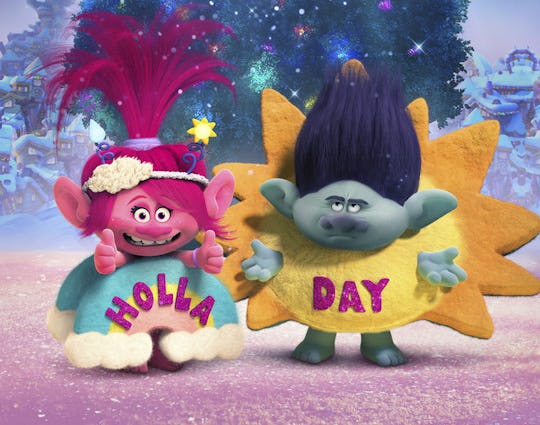 NBCUniversal
Here's How Your Kids Can Rewatch The 'Trolls' Holiday Special
Even though the special TV airing has come and gone and it seemed like that hour long timeslot flew by, there are still enough ways to rewatch the Trolls holiday special to keep up your holiday spirit and continue to join Poppy and the other Trolls on their latest adventure. If you're anything like me, then you might even love the original Trolls movie more than your kid, because let's be honest, animated movies these days are as much for adults as they are for children. So there's no shame in your Poppy or Branch-loving game.
It also doesn't hurt that the movie and holiday special both share a star-studded cast of actors and singers that make it even more relevant than it already is. And if you're already trying to figure out how to rewatch it, you can do so on Netflix starting Dec. 6. But if you'd rather not wait to see Poppy instill the magic of the holiday season in the Bergens once again, the Trolls holiday special is already out on DVD. I know, it might seem a little strange to buy a DVD of a non-movie that technically spans less than an hour, but you also get a couple of bonus segments featuring other favorite DreamWorks characters.
In addition to a bonus episode of Spirit Riding Free, you'll also get a special episode with Tip and Oh from the movie Home, so there are definitely perks to investing in the actual DVD. Of course, since we currently live in the age of streaming, you can watch the Trolls holiday special that way as well. While you probably won't be able to find it in its entirety on YouTube, you can now buy it on both iTunes and Amazon Prime, so there are really no shortage of ways to rewatch the adorable special and keep up your holiday spirit. I mean, we can't all be as peppy as Poppy, but her cheerful demeanor is infectious, so you can't help but enjoy watching it.
Unlike other holiday specials that focus on a specific religious holiday that not all viewers even celebrate, the Trolls holiday special focuses on very Troll-like holidays instead. Of course, you can't really beat classics like Rudolph the Red-Nosed Reindeer or even Elf, but there's something refreshing about watching Poppy introduce the once grumpy Bergens to the Troll holidays of Balloon Squeal Day and Ticklepalooza.
Some of the returning voices, which fans can likely expect in the official Trolls sequel in 2020, include Anna Kendrick, Justin Timberlake, Zooey Deschanel, Christopher Mintz-Plasse, and James Corden. The Trolls holiday special might be just a fragment of what the movie sequel will likely be, but it was also a way to keep the magic of Trolls alive for its younger viewers and keep it in the spotlight, so to speak, since Trolls 2 is still so far away.
But for now, fans can enjoy the original and rewatch the Trolls holiday special in a multitude of ways, so there's no excuse not to keep enjoying the original songs and covers that will no doubt have you going out and buying the soundtrack. Because yes, there is also a Trolls holiday special soundtrack, and even though it's not as long as the one that was released for the movie, there are still a handful of songs to keep you in a festive mood, even if your toddler forces you to listen to the entire album on repeat for days.
It may have aired just once in November, but since Netflix will premiere the Trolls holiday special in December and it's already available on multiple streaming platforms, you'll definitely be able to relive the Trolls magic throughout the holiday season and beyond.
Check out Romper's new video series, Romper's Doula Diaries:
Watch full episodes of Romper's Doula Diaries on Facebook Watch.