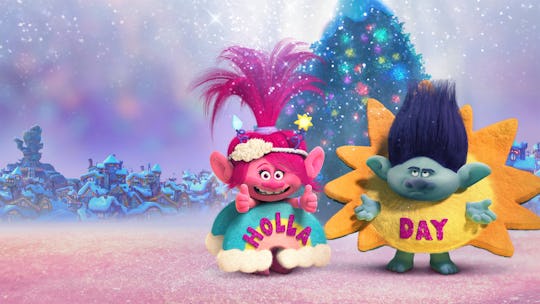 NBCUniversal
The 'Trolls' Holiday Special Is Officially On Netflix, So Clear Your Family's Schedule
Like most specials on TV this time of year, you can't watch the Trolls holiday special just once and then be done for the season. But since this was the first year the brand new special aired, you're probably already wondering, will the Trolls holiday special be on Netflix? Since you're undoubtedly going to want to watch it over and over, or at least your kid might, you can rejoice in knowing that it will premiere on Netflix on Dec. 6. That gives you plenty of time to enjoy it for the duration of the month, while celebrating your family holidays and enjoying Poppy, Branch, and the rest of the Trolls crew that we all fell in love with during the original movie.
Just in case you weren't able to watch it when it aired on NBC in November, the Trolls holiday special centers around Poppy's need to help the Bergens learn to celebrate all of the classic Troll holidays, like Ticklepalooza and Balloon Squeal Day. Because what other holidays would you expect the Trolls to celebrate? Since they banished Trollstice during the Trolls movie, the Bergens now have nothing to look forward to, so of course Poppy has made it her mission to help them learn to celebrate and look forward to other holidays throughout the year.
Of course if you can't wait until Dec. 6, the Trolls holiday special is already available on DVD, iTunes, and Amazon Prime, but since there's nothing like a solid Netflix binging session, you can soon add the Trolls holiday special to your Christmas movie queue. When Trolls returned with its new story, all of the same beloved characters and voices behind them came back, too, including both Anna Kendrick and Justin Timberlake.
Watching the holiday special on Netflix is also the next best thing to watching the actual movie before the Trolls sequel is released in 2020. Granted, that still seems like quite a ways off from now, but if the success of the Trolls holiday special is any indication, then maybe fans can expect even more specials in the future. The holiday feature averaged in at 5.19 million viewers during its hour-long time slot, and for a first-ever special, that's a pretty impressive number. To help put it into perspective — on the same night, Frosty the Snowman had 3.95 million viewers, with college football on FOX bringing in 3.59 million. So overall, the Trolls holiday special did quite well, especially for its first year of doing anything like this.
There's also a brand new soundtrack that was born out of the holiday special with a whole litany of songs by the original cast with some original songs in there as well. While there hasn't been an announcement about future holiday specials in the vein of the Trolls universe, it was clearly an effortless success and producing future holiday specials would be the perfect way to keep fans interested until the official sequel is released in 2020. It might not be one of the Christmas classics, like the ever-popular claymation masterpiece Rudolph the Red-Nosed Reindeer, but because of its stellar ratings, it's entirely possible that at the very least, the same special could return to TV again next year.
In the meantime, the Trolls holiday special will indeed be on Netflix starting Dec. 6, so whether you were one of the more than five million people who tuned in to watch it live on NBC or not, you'll be able to enjoy it commercial-free in all of its streaming glory.
Check out Romper's new video series, Romper's Doula Diaries:
Watch full episodes of Romper's Doula Diaries on Facebook Watch.