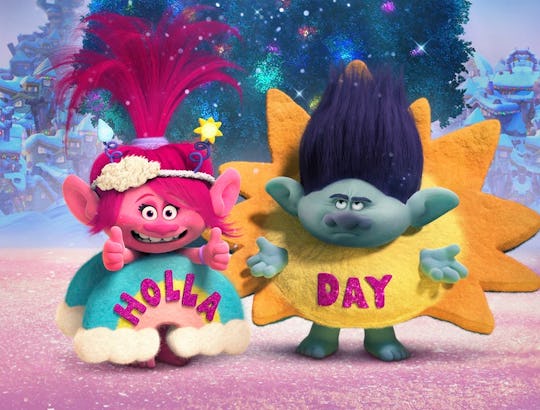 NBCUniversal
A 'Trolls' Holiday Special Is Coming & Your Kids Are Gonna Lose It
Of all the kids' movies my son has introduced me to, Trolls has to be high up on the list of the ones that hardly get old after watching them three times in succession. In fact, sadly, I've probably requested it more times than he has. With big names behind the characters and catchy music, Trolls is the best. Which is probably why parents are going to be wondering how to watch the Trolls holiday special, since it's basically for adults too and a whole lot of fun. Plus, it's a great way to take a break from the hectic schedule that Thanksgiving brings, which can get overwhelming at times.
NBC will air Trolls Holiday on Friday, Nov. 24 at 8:30 p.m. EST and since it's definitely not one of the old Charlie Brown specials or something much more dated, you probably aren't going to be able to watch it on YouTube. There's a chance that Hulu might feature the Trolls holiday special after it airs, since the streaming platform seems to be up to date on some of NBC's programming, but to be safe, it looks like watching it live on NBC or on NBC's website's live stream, if available in your area, is going to be your best bet to catch it when it airs.
If you're more inclined to wait, however, or if you anticipate falling asleep early the day after Thanksgiving, Trolls Holiday will also premiere on Netflix on Dec. 6, so you won't be totally out of luck.
But since the Trolls sequel (yes, we're getting one and yes, I know, that's the best news ever) isn't set to release until 2020, getting the Trolls holiday special is definitely the next best thing to tide fans over. According to NBC's press release, Trolls Holiday will focus on Poppy's innate desire to bring the joy of all of the trolls' holidays to Bergen Town, since the Bergens don't have much to look forward to now that their only holiday, Trollstice, is gone. But it's not going to be as easy as the ever optimistic Poppy might think, since the Bergens themselves are pretty new to the whole happiness thing.
Luckily, there will be new music to enjoy from the original cast as they return to the small screen in the Trolls holiday special. That's right — Justin Timberlake will bring back his voice as Branch, Anna Kendrick is once again Poppy, and Zooey Deschanel and Christopher Mintz-Plasse are going to return as Bridget and King Gristle Jr., respectively. That's not super surprising, since they'll all likely be back for the second installment of the film, come 2020, but it's still another reason to catch the special live on NBC later this week.
Since we're apparently living in the age of acceptable animated sequels, i.e. Cars 3, Despicable Me 3, and The Incredibles 2, waiting another two years or so for the next installment of Trolls is something we're all just going to have to accept. But that doesn't mean that fans can't also enjoy the Trolls holiday special that, although nowhere near movie-length, will still likely feature some of the same humor and silliness that's so irresistibly infectious. It's also one of the rare kids' movies that, like I said, dare to enchant and attract adults too — and not just because they're forced to sit through it with their toddlers multiples times per day.
Unfortunately, we're also living in a time where DVRs sometimes rule the house and watching live TV is almost frowned upon, but I think we can all give up a half hour to Trolls Holiday to take a break from the chaos that the holiday season often brings with it. And with a new soundtrack already out, the special will bring new songs to listen to while you wait for the actual sequel to be released in theaters.
Check out Romper's new video series, Romper's Doula Diaries:
Watch full episodes of Romper's Doula Diaries on Facebook Watch.