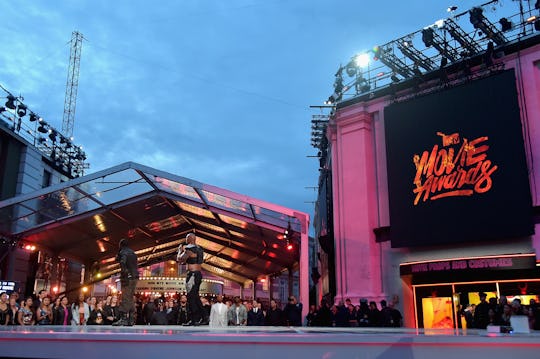 Alberto E. Rodriguez/Getty Images Entertainment/Getty Images
You Won't Want To Miss The 2017 MTV Movie & TV Awards
Every year Hollywood comes out for a night of fun and hijinks at the MTV Movie Awards, except this year the event not only celebrates the best in film but the best in TV as well. The laid back awards show, hosted by Adam Devine, will most likely be filled with hilarious jokes, pranks, and witty banter. However, even though the awards show will be airing on basically every channel that Viacom owns, you may still miss it. So here's how to rewatch the 2017 MTV Movie & TV Awards, so you don't feel left out when everyone's talking about it for the next week.
If you miss out on watching the awards show live, MTV will be showing an encore presentation of the awards ceremony right after it finishes airing. Just turn on MTV at 10:10 p.m. ET on Sunday, May 7 to see the whole thing play out all over again. Just make sure you don't tune in too early and catch the tail end of the awards show. You wouldn't want to spoil yourself.
MTV will then show two more encore presentations of the ceremony that very same night, so if you're up late and miss the show, you still have three chances to see it on your TV. However, if you're like me and enjoy your sleep, there's thankfully an alternative to rewatching the show that won't keep you up past your bed time.
First, there's always the handy DVR tool if you happen to have one of those available to you. However, if you don't have a TV, you can expect MTV to upload the entire awards ceremony to their website the following day. Just be advised that you will need a TV subscription in order to log in and watch. If you don't have a cable subscription (or a nice friend who will let you borrow theirs), you may be out of luck.
Thankfully, social media has your back. No doubt, if there are any noteworthy moments — as there are known to be — you'll be able to find the clip on YouTube, Twitter, Facebook, and/or Instagram. So even if you can't watch the entire show, you'll still be able to get the highlights, and really those are usually the only parts you need to see anyway.
However, the best way to really enjoy the MTV Movie & TV Awards is to see it happen live. If the Oscars taught us anything it's that literally anything can happen at awards shows and it's way more fun to see it happen in the moment.
The 2017 MTV Movie & TV Awards airs on Sunday, May 7 at 8 p.m. ET.