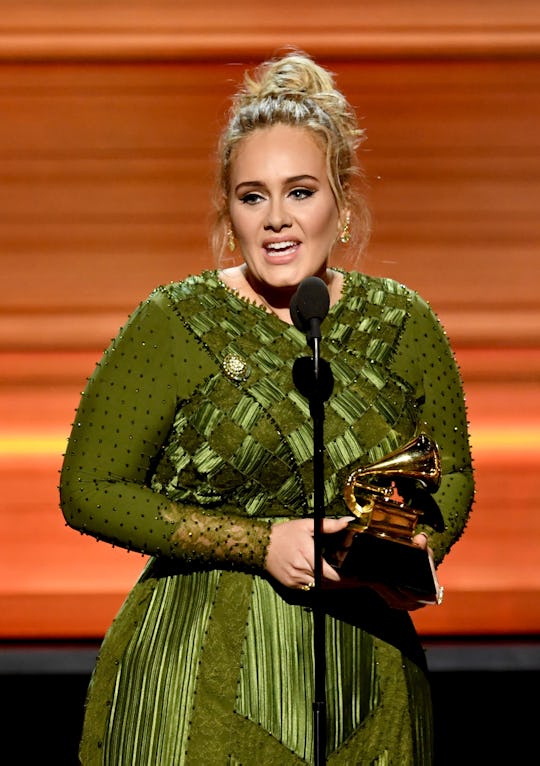 Kevin Winter/Getty Images Entertainment/Getty Images
Here Is The Best Way To Rewatch The 2018 Grammy Awards
You meant to DVR it, or you got home and started flipping through the channels only to realize it's already an hour into the Grammys, or you watched the entire show live and already want to rewatch Pink's (probably) epic performance. (Trust me, it happens.) So if you find yourself wondering how to rewatch the 2018 Grammy Awards, there are a few different ways to do that.
This year, the Grammys will air on CBS on Jan. 28 at 7:30 p.m. ET and is expected to run until 11 p.m. EST as usual, but also as usual, they could run over that timeframe. In any case, because it's a network TV channel and not a paid cable channel, CBS will likely air your local news directly following the Grammys as opposed to replaying the award show a second time, as some cable networks tend to do. But fear not, my friends, because CBS.com will have the 2018 Grammys available for streaming live if you have a CBS All Access subscription, so chances are, you'll be able to rewatch the Grammys on the website as well once its over.
Considering that you can typically find the most noteworthy performances online afterward, on YouTube or social media, those might be your go-to sources to watch the best performances or highlights from the show, especially since it likely isn't going to air on CBS right away after its initial live showing. Remember that time Adele refused to accept her Album of the Year award and insisted that Beyoncé was more deserving of it instead? Yeah, I'd expect moments like that to be floating around the internet soon after they air on TV.
As it stands, most of the big moments from the 2017 Grammys were made available on YouTube shortly after they aired last year, but to rewatch the 2018 Grammys in its entirety, you're going to need a CBS All Access Subscription. If you've never had one before, you can likely try it for free on the website, but even if you have to pay, a CBS All Access pass is $5.99/month, which will also give you access to a ton of different shows, including ones only available on the streaming service. Not to mention, it's a small price to pay to rewatch Cardi B take the first female win ever for the Grammy for Best Rap Performance. OK, so maybe that's not a guarantee, but it's definitely a possibility.
For the second year in a row, The Late Late Show host James Corden will host the Grammys and if last year is any indication, fans are in for a night full of fun — and perhaps, just maybe, a solid Carpool Karaoke session. Please? I mean, Corden can't host a music award show and not give viewers and fans everywhere a Grammy-sized version of his popular skit, right?
You can also expect to see a variety of performances from artists like Rihanna, SZA, Kendrick Lamar, Lady Gaga, and Kesha, just to name a few of the more notable performers this year. On the docket to present at the 2018 Grammys are a mixture of music artists and actors, including Nick Jonas, Dave Chappelle, Hailee Steinfeld, and Katie Holmes. So there's definitely going to be a wide range of celebrities on stage, but that's the beauty of the Grammys, right? It brings all of your favorite celebrities together for the sake of music and recognizing the best in the business.
The options to rewatch the 2018 Grammys may be limited, but it's definitely possible. In the meantime, just grab your favorite snack, your largest glass of wine, and settle in so you won't miss a moment of the awards the first time around.
Check out Romper's new video series, Romper's Doula Diaries:
Watch full episodes of Romper's Doula Diaries on Facebook Watch.