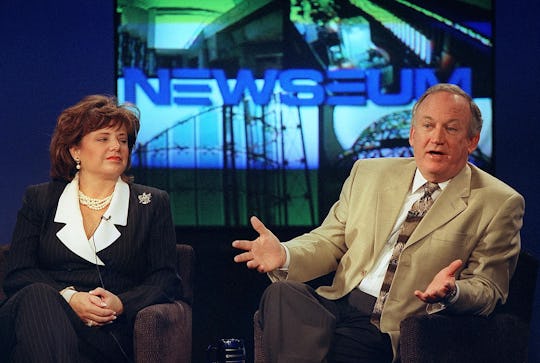 MARIO TAMA/AFP/Getty Images
How To Rewatch The 'Dateline' JonBenet Ramsey Special, Because You Won't Want To Miss It
Since this year marks 20 years since six-year-old JonBenét Ramsey was found dead in her family's Boulder, Colorado home, there has been no shortage of specials to remind us of the grizzly details surrounding the crime that was never solved. And now, Dateline will be airing one of their own specials on Friday, September 9, to interview detectives from the scene of the crime so many years ago. They also promise to reveal "never before seen case documents." But how can you rewatch Dateline's JonBenét special? In addition to Dateline's promised revelations, CBS will be airing a three-part docuseries on the case, JonBenét's older brother Burke will be speaking for the first time ever on Dr. Phil, and Lifetime will soon be rolling out yet another made for TV movie depicting the mysterious crime committed 20 years ago.
It makes sense for Dateline to air a special of their own, this one with an interview with the 911 operator who answered Patsy Ramsey's call the morning after Christmas in 1996, but who was never talked about the case in the past two decades. The two hour Dateline special, Who Killed JonBenét? also promises to give us interviews with former Boulder and former Denver detectives, Jane Harmer and Tom Haney.
So after the two hour special airs, how can you rewatch Dateline's JonBenét special? If you have cable, NBC's OnDemand section for Dateline periodically has new episodes available to rewatch, but so does the NBC website, as well as the Dateline YouTube page, interestingly enough. So there will be plenty of ways to watch the special if you miss it, or if you want to go back and rewatch all of the new information the JonBenét special promises to give us.
Already this summer, A&E aired their own special, The Killing of JonBenét: The Truth Uncovered and Investigation Discovery will show their own three-part special, JonBenét Ramsey: An American Murder Mystery on September 12. Then, there is the Dr. Phil interview with Burke. After that, will be the CBS JonBenét docu-series on September 18 and sometime this year we'll have the Lifetime movie, Who Killed JonBenét?. But before all of that, Dateline will air its two hour special, also titled Who Killed JonBenét? to add to the many investigative looks into the 20-year-old murder case that still remains a mystery today.
If you remember, shortly after Patsy Ramsey found a ransom note detailing instructions for how to get her daughter back, JonBenét's body was found in the home's basement, and from there began a slew of investigations into how JonBenét was murdered and what exactly happened the night of December 25, 1996 into the following morning. But no one was ever charged in the case and because of this, so much mystery still surrounds the unsolved murder.
Understandably, this has also sparked plenty of these JonBenét specials during what is the 20 year mark of the murder, some of which will hopefully aid in pointing out legitimate information, as opposed to simply reiterating what we already know about the tragic case.