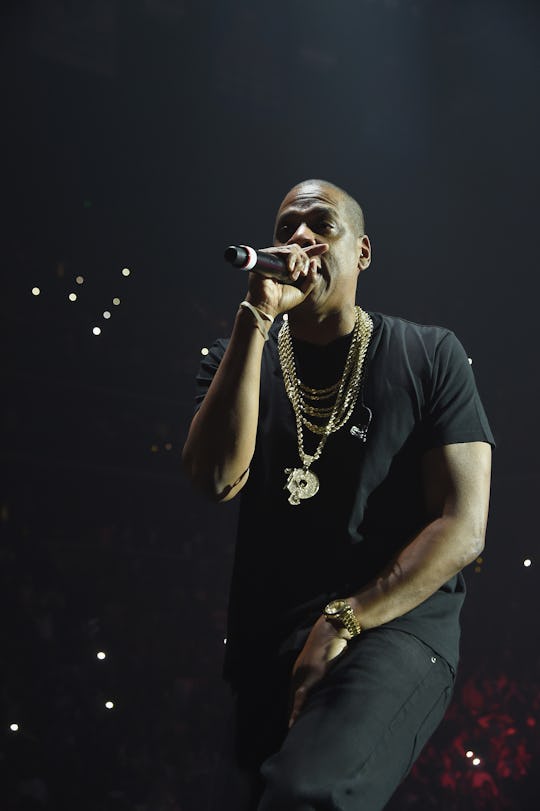 Jamie McCarthy/Getty Images Entertainment/Getty Images
How To Stream Jay Z's 'All The Way Up' Remix, Because He Finally Talks 'Lemonade'
It's here y'all. After Beyoncé shocked the world with her album Lemonade, which among many things, shared an emotional tale about infidelity, rumors circled that her husband, Jay Z, (the suspected subject in the album) would publicly respond to the album shortly after. And he certainly did – on a verse on Fat Joe and Remy Ma's "All The Way Up." So, now of course you're wondering how to stream Jay Z's "All The Way Up," remix. But, unfortunately the song is currently only streaming on Tidal.
It's a New York affair for the "All The Way Up" remix. Fat Joe recruited fellow New Yorker Jay Z for the collaboration, and apparently it was all in the name of love for the city that never sleeps.
"The world will know who's on the remix," Joe said in an interview with Billboard before the remix released. "I turned down some really really really big names for the remix. Like, the biggest guys on Earth but was just like, yo, I wanna keep it New York.' So hopefully I win on my roll of the dice but I'm excited for the city."
And fans of Lemonade are surely excited to hear Jay Z reference his wife's album that had the Internet going crazy over his alleged mistress, or "Becky with the good hair."
Jay Z didn't exactly say "Becky" (wise man, perhaps) in his verse, but he did talk about Lemonade's mega success:
You know you made it when the fact your marriage made it is worth millions/ Lemonade is a popular drink and it still is
The rapper also paid homage to the late, Prince, saying, "Prince left his masters with us where they're safe and sound/ We never going to let the elevator take him down. "
His verse on "All The Way Up," which also featured rappers French Montana and Infared, may not be the last time fans will hear the rapper respond to Lemonade. Back in 2014, reports on Jay Z and Beyoncé working on a joint album made headlines as the couple closed out their On the Run tour. Now years later, Page Six reported that the joint album is complete and will release on Tidal soon. Will he address Lemonade with Beyoncé? Sigh. Who really knows?
There's no confirmation on the joint album's status, what it's about, or when it will release. But it would be interesting to have Jay Z and Beyoncé together on one album. Especially since Bey had the world fiercely singing "boy bye," from her latest project.