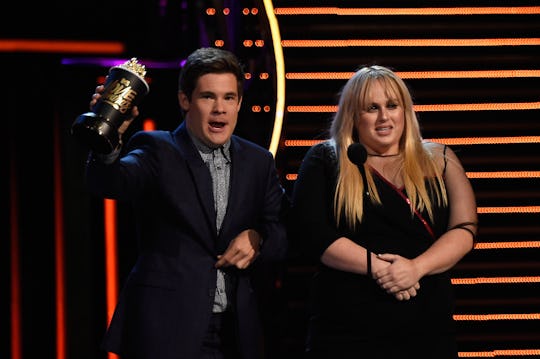 Frazer Harrison/Getty Images Entertainment/Getty Images
How To Stream The 2017 MTV Movie & TV Awards
The Oscars and the Emmys can have their glamour and glitz as long as MTV never stops doing what they're doing when it comes to honoring pop culture at the MTV Movie & TV Awards. But since many of us will be glued to our devices rather than the TV itself, it's totally OK to ask how to stream the 2017 MTV Movie & TV Awards. Since you can watch live TV on MTV's website with a cable provider login, you will likely be able to do so for the awards show — but again, only if you already have a cable subscription that enables you to sign in on the site.
For awards shows in general, though, MTV is always on the ball with getting the live streams up on their site right away. And considering that most of the network's past awards shows have been simultaneously broadcast online with its TV counterpart, it should be a relatively easy process for all involved.
On the actual network, the MTV Movie & TV Awards will air at 8 p.m. ET on May 7 and a live stream will most likely begin at the same exact time. Being that this year's show is debuting a whole new format — which includes TV categories and viral content alongside the usual movie categories — you kind of have to expect that they'd cater to those who are more inclined to stream online than watch on TV.
This year, Adam Devine of Pitch Perfect fame and Workaholics will be hosting the MTV Movie & TV Awards, which has for the first time added TV content to its roster of awards to be given. Yes, that means all of your favorite Netflix and network TV shows will be given their dues. Well, most of them anyway.
Where before the MTV Movie Awards were still good for recognizing some of the more mainstream than Oscar buzz-worthy movies, now it's going to be able to give recognition to some of the television content that so many of us have binged on time and again.
In an interview with Deadline, MTV President Chris McCarthy talked about the decision to switch up the format for this year's awards show, citing the demand for more TV being the main reason. "We're living in a golden age of content, and great storytelling and characters resonate regardless of whether you're watching it in a theater or on TV," McCarthy said. "The new MTV Movie & TV Awards will celebrate even more of the brightest, bravest, funniest and most shared films and TV shows resonating across youth culture."
Naturally, viewers are going to wonder how to stream the MTV Movie & TV Awards. And although there's no place yet on the MTV website to go to for the live stream of the show, it will probably be made available closer to the May 7 show date.