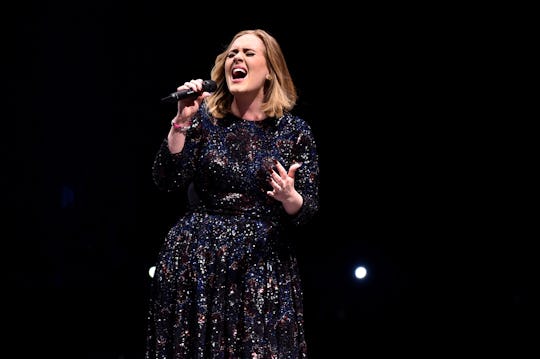 Gareth Cattermole/Getty Images Entertainment/Getty Images
How To Stream The Billboard Music Awards So You Won't Miss Adele's New Video
The 2016 Billboard Music Awards will air this Sunday, May 22 live from the T-Mobile Arena in Las Vegas. And even if watching the show when it airs live on ABC isn't an option, music fans will still have plenty of ways to catch everything from the first red carpet arrivals to the final live performance. Here's how to stream the Billboard Music Awards, so not a single moment is missed.
Of course, the list of presenters for the Billboard Awards includes some of the most popular names in music and entertainment. According to Billboard, Jessica Alba, Kristen Bell, Wiz Khalifa, Mila Kunis, Ashton Kutcher, Aerosmith's Steven Tyler, and Fall Out Boy's Pete Wentz are among those slated to hand out honors on Sunday evening. But this year, there are a few more reasons to tune in. Between a planned (and somewhat controversial) Prince tribute by Madonna and news that the broadcast will include the premiere of Adele's latest single, missing the show this year seems like a bad idea.
So to help with those Monday morning office conversations — the ones that start with your favorite work friend expectantly asking, "Did you see the awards last night?" — here's how to watch the awards, even if cable television or local channels aren't an option that evening.
Watch The Red Carpet Arrivals
What's the best way to catch all of the star arrivals and interviews (without flying to Las Vegas, that is)? Fans can catch the two-hour parade of celebrities online at Billboard.com or by accessing the Watch ABC live stream on the channel's website. But since ABC.com live streaming is only available in certain markets, users might want to visit the site ahead of time to avoid a last-minute scramble for a reliable stream.
Catch The Awards Live Online
Even without a cable connection (or a television!) fans can still catch every performance, speech, and audience reaction. In addition to the ABC live stream, the ABCGo mobile app is a good option for mobile users, and Hulu subscribers can see the entire event online, as well as highlights of the night's biggest moments.
Follow Along On Twitter & Instagram
Of course, some of the best award-show chatter will take place in the Twitterverse, so it would be well worth it to follow some of the night's big names. In addition to following the official Billboard Music Awards Twitter account, users might want to follow this year's hosts Ludacris (on Twitter or on Instagram at @Ludacris) and Ciara (on Twitter and on Instagram at @Ciara). That way, fans will see the big moments on stage, as well as everything happening behind the scenes or during commercial breaks. By the way, Twitter users can even have a direct say in some of the awards. This year, fans log onto Twitter and use hashtag #BBMAs to cast votes for the coveted Billboard Chart Achievement Award, choosing between Little Big Town, Drake, Rihanna, The Weeknd, or Adele as award nominees.
It's going to be a big night, for sure. The broadcast of the 2016 Billboard Awards will begin at 8:00 p.m. Eastern Time on Sunday, May 17.