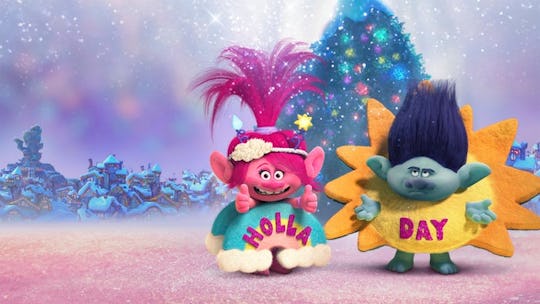 NBCUniversal
Watching The 'Trolls' Holiday Special Is About To Get So Much Easier
I might be one of those people who busts out the Christmas tree before the Thanksgiving turkey is even carved and I may or may not have been the first person on my block to decorate my yard with lights, but even I know that there's a time and place for holiday movies. And with the holiday season officially underway, there are plenty of us who will be wondering how to stream the Trolls holiday special.
I may, at times, be creeping up on Buddy the Elf's level of holiday spirit, but as soon as Dec. 26 hits, I'm all about moving forward and wishing for the end of winter, so there's a relatively short window when holiday movies and specials are socially acceptable for me. So I'm a big believer in seizing all opportunities you can to enjoy them, including the new Trolls special that aired for the first time ever on NBC back in November.
Although the Trolls holiday special aired on network TV, it's not going to be available for streaming on NBC's website. Never fear, though, because you can still enjoy embarrassing your kids as you sing along to every single song by streaming the Trolls holiday special on Netflix, since it premieres on the streaming platform beginning on Dec. 6.
Of course you can also stream it on either iTunes or Amazon Prime, but in both cases, you'd have to pay for it first, so it's not really as much of a stream as a download, but still a digital copy nonetheless. Since Netflix has an animation deal with DreamWorks, though, it's no big surprise that the Trolls holiday special was quickly acquired.
Back in 2011, DreamWorks Animation — which you might know by way of hits like Shrek or The Boss Baby, — struck a deal with Netflix to not only allow the streaming platform to host its movies, but also any DreamWorks TV specials, which is where the Trolls holiday special comes in. This was several years ago, but in 2013, Netflix began streaming some DreamWorks films and, as of late, there have been a number of Netflix Original animated series in partnership with DreamWorks, such as Spirit: Riding Free and Trollhunters, so the deal has likely been a huge success for both companies.
In January 2016, DreamWorks and Netflix announced plans to expand upon their partnership and include even more original content on the streaming service, so I highly doubt that the Trolls movie or the Trolls holiday special, once it premieres on Netflix, are going anywhere anytime soon.
"This agreement adds to the incredible foundation we've built together with Netflix over a number of years across both film and television," Ann Daly, the President of DreamWorks Animation, told Deadline. "We are proud to work closely with Netflix to continue delivering high-quality programming to audiences around the world."
The Trolls holiday special follows the original group of adorable tiny trolls, including Poppy, Branch, Biggie, and Guy Diamond, among others, as they try to help the Bergens learn what it means to be happy without the Trollstice holiday to look forward to anymore. Although it spans less than an hour long, it's certainly better than no new Trolls content at all! Plus, it's the perfect way to get your kid (and yourself) in the mood for the holiday season.
Just in time for the holiday season, the Trolls special will premiere on Netflix on Dec. 6 so you can watch it no less than a dozen times a day, since that's par for the course when your kids become fixated on a particular TV show or movie. And if you already have Netflix, it's just another reason to keep loving the idea of having binge-worthy television at your disposal.
Check out Romper's new video series, Romper's Doula Diaries:
Watch full episodes of Romper's Doula Diaries on Facebook Watch.