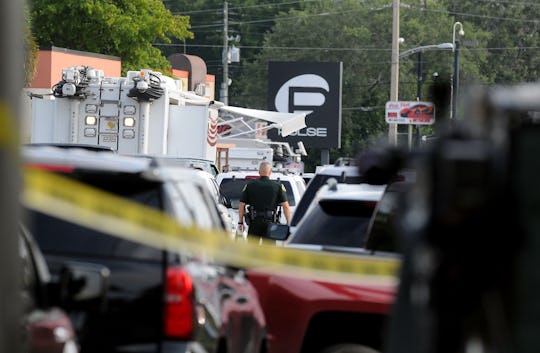 Gerardo Mora/Getty Images News/Getty Images
How To Support Orlando Nightclub Shooting Victims
In the devastating aftermath of the Orlando Pulse nightclub attack that left upwards of 50 dead and more than 50 in need of medical care, many are rightfully wondering how to support Orlando nightclub shooting victims. Either because you're geographically far away or because you just don't know what to do, there are plenty of ways to show solidarity for those in need. Today, unfortunately, has become another opportunity to do just that. Shortly after 2 a.m. last night a gunman opened fire at Pulse nightclub in Orlando. Police Chief John Mina said that the gunman — who was killed by police on scene — was carrying an assault-style rifle, possibly an explosive device, and a handgun.
(Update: The FBI has updated the death toll to 49 victims. The shooter was also killed.)
Local police have classified the attack as an act of domestic violence. Mina added that it appears the suspected shooter "was organized and well-prepared" for the attack. The local Florida sect of the FBI is also involved in investigating the attack. Though a clear motive has not been released yet, police have identified the suspected shooter as Omar Saddiqui Mateen, and CNN notes that the suspect is originally from Afghanistan. The attack occurred during Pride Month, and is a heartbreaking reminder of the violence, bigotry, and ignorance LGBTQA+ individuals face on a daily basis in our country. The attack is particularly saddening, given that June 26 marks the one-year anniversary of the SCOTUS' ruling on same-sex marriage in the U.S.
If you're looking for tangible ways to help the victims of Saturday night's unthinkable tragedy, you can start by advocating for better futures for LGBT youth through the It Gets Better Project, which aims to remind LGBT youth that it does get better — and right now, this is an incredibly important message to advocate for. Though officials have yet to classify last night's attack as a hate crime, the attack on a nightclub for LGBT individuals is a stark reminder of the violence members of this community face day in and day out. You can make a difference by donating to Equality Florida, and donations go directly to lesbian, gay, bisexual and transgender people to secure equality and fairness, regardless of sexual orientation or gender identity in Florida. Most obviously, you can donate blood to the more than 50 victims in need of medical care from this attack.
More broadly, you can show that you support the victims of last night's horrific event by sharing tributes and memes and tweets far and wide that show that you stand with the victims, their families, and the LGBTQA+ community at large. You can use your social media platform to advocate for individuals who are the target of hate crimes, of ignorance, and of bigotry. Last year after the SCOTUS ruling on same-sex marriage, Facebook released the Pride flag filter. Replacing your current photo with the Pride flag shows you stand in solidarity with the LGBT community and speaks volumes about where you stand on the issues affecting the lives of those around you.
You can also become an advocate, both for those close to you and for those you don't know, and appeal to your local congressmen and women for firmer, stricter, and more thorough laws that protect the lives of LGBT individuals. You can support laws that work toward better stricter gun violence prevention policies.
There are endless opportunities to stand up, be heard, help, and support those whose lives have been affected — both far and wide — by last night's events, but the root of all that begins with doing one thing: caring. And if you're not sure where the hell to start, start there. Care. And then work like hell to ensure that these types of events that have become so commonplace in our country stop happening.