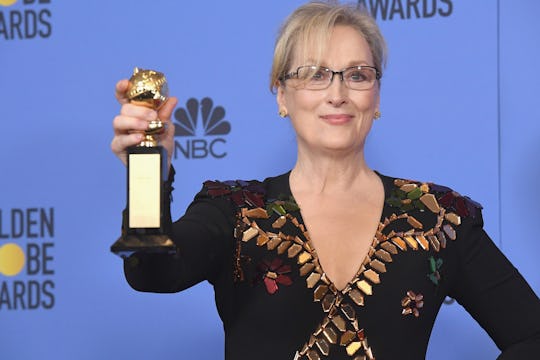 Kevin Winter/Getty Images Entertainment/Getty Images
Support The Committee To Protect Journalists
During her speech accepting the Cecil B. DeMille Lifetime Achievement Award at the Golden Globes Monday night, legendary actress Meryl Streep did not talk about the myriad professional achievements that got her there. Instead, she used her public platform of influence to critique the president-elect and the abuses of power she believes he has and will commit. Most importantly, she encouraged journalists to continue to "hold power to account" while facing an incoming president who has disparaged and attempted to discredit them at every turn. Streep inspired the public to learn how to support the Committee to Protect Journalists with her shoutout to the "independent, nonprofit organization that promotes press freedom worldwide," according to its website.
Traditionally, the CPJ has focused its energy in shielding journalists from being exiled, imprisoned, or even killed while working in conflict zones or foreign countries that restrict freedom of the press, The Washington Post reported. But Trump's candidacy prompted the nonpartisan organization to label him a threat to press freedom for actions like barring certain outlets from his events, threatening to "open up our libel laws," and having Univision anchor Jorge Ramos removed from a campaign press event for asking questions he did not like, according to CPJ. And now that his Jan. 20 inauguration is fast approaching, the New York-based CPJ may have to turn its efforts back to the United States.
Streep recognized at the Golden Globes that having a president who is so hateful of the press, which needs hold him accountable — and even simply to report on what he actually says and does — presents a terrifying new reality, despite the protections of First Amendment. She told the event's famous attendees and viewers across the nation:
We need the principled press to hold power to account, to call them on the carpet for every outrage. That's why our founders enshrined the press and its freedoms in our constitution. So I only ask the famously well-heeled Hollywood Foreign Press and all of us in our community to join me in supporting the Committee to Protect Journalists.
Emotionally, Streep celebrated the diversity ofHollywood, warned that "disrespect invites disrespect," and lamented that Donald Trump had mocked a disabled New York Times reporter on the campaign trail (even though he denies having done this. Judge for yourself here.). Regardless, Streep's small anecdote about Trump's attack on Serge F. Kovaleski, during which he jerked his arms before him in apparent imitation of the journalist's chronic condition, is emblematic of Trump's well-known opinion that the media is "scum," and "dishonest" to boot. ‌
That's why Streep's boost of the Committee to Protect Journalists was so essential. And the organization, which many had never heard of before the world-famous actress mentioned it, was quick to capitalize on the exposure with a tweet detailing how to donate to its cause. By following the link the CPJ provided, potential donors will also find a video of a CBS News segment explaining in detail the organization's vital work making freedom of information a more attainable reality for journalists and audiences abroad:
By supporting the Committee to Protect Journalists, donors help to secure the release of journalists who have been imprisoned, work to ensure that those who murder them are convicted, and "enable positive legal reform in countries where the climate for free expression has deteriorated." And there are lots of way to achieve these goals: CPJ donations come from corporations, foundations, and in-kind contributions; it's possible for the organization to be named in wills, for it to receive a portion or the remainder of retirement plans, or gifted life insurance plans that are no longer needed.
And now, we have a president-elect who has threatened to sue The New York Times for publishing accusations of sexual assault against him and who makes a habit of calling out reporters by name — at times making his campaign rallies potentially dangerous for targets like NBC's Katy Tur, for example. His unmasked disdain for the press and apparent quest to convince American that it's full of liars who are out to publish falsehoods about him creates a hostile environment for this important institution to operate.
Don't fall for it. Support truth, and an open society, and Meryl Streep.