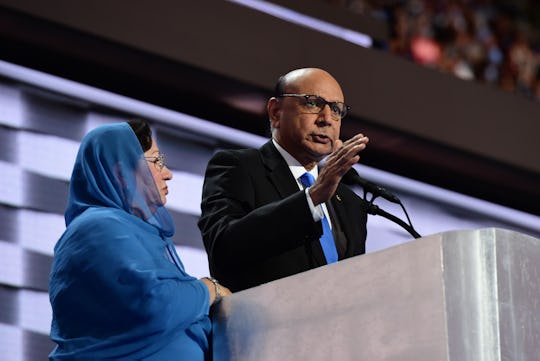 ROBYN BECK/AFP/Getty Images
How To Support The Khan Family, Because Hate & Bigotry Should Not Silence Them
When most people listened to Khizr Khan's Democratic National Convention speech, they heard a moving call for respect of Muslims and immigrants. When Republican presidential nominee Donald Trump listened to it, he heard an attack. Trump's comments on Khan's message troubled many, even high-ranking politicians in his own party. It also left plenty of Americans eager to do what they can to further the mission of the Khan family, to end discrimination, and to reaffirm the importance of the founding values of the United States. For anyone wondering how to support the Khan family, doing whatever possible to increase the reach of Khan's message may be one way to challenge Trump's response.
On Thursday, Khan stood at the DNC microphone with his wife, Ghazala Khan. The Gold Star parents honored their son, Capt. Humayun Khan, who died protecting his fellow soldiers in Iraq. In under seven minutes, Khan made a powerful argument against the xenophobic elements of Trump's platform. Khan said, "Donald Trump consistently smears the character of Muslims. He disrespects other minorities, women, judges, even his own party leadership. He vows to build walls and ban us from this country." He continued by saying that Trump has "sacrificed nothing and no one," and ended his speech by asking voters to put Democratic presidential nominee Hillary Clinton in the Oval Office.
Trump responded to Khan's speech during an ABC News interview that aired this weekend. When George Stephanopoulos asked him what sacrifices he'd made for his country, Trump said, "I think I've made a lot of sacrifices. I work very, very hard. I've created thousands and thousands of jobs, tens of thousands of jobs." He also wondered aloud whether Khan's wife had been prevented from speaking because of her religion, adding, "She was extremely quiet and looked like she had nothing to say." Ghazala responded to Trump's comments by saying that she chose not to speak because the grief is too overwhelming, The New York Times reported. Khan said Trump "is devoid of feeling the pain of a mother who has sacrificed her son."
The Trump campaign reframed its position. Trump's statement on Khan, released Saturday, said that Capt. Khan is "a hero" but challenged his father: Trump claimed that Khan "has no right to stand in front of millions of people and claim I have never read the Constitution, (which is false) and say many other inaccurate things." Republican vice presidential candidate Mike Pence's statement on Khan released Sunday attempted to offer further clarification of where the campaign stood on immigration, claiming that suspending immigration is necessary to prevent terrorism but stating that "Captain Humayun Khan is an American hero and his family, like all Gold Star families, should be cherished by every American." On the same day, Trump tweeted about Khan twice:
In a tweet on Monday, Trump said Khan "viciously attacked" him:
Many people, including politicians, believe Trump's comments went too far. One of the easiest ways to support the Khan family is to continue circulating the video and transcript of Khan's speech. It's also valuable to use one's social media platforms to share a personal statement about the importance of Khan's words and challenging Trump's reply. Many Republicans against Trump's response to Khan are already sharing their thoughts on Twitter, according to CNN:
South Carolina Sen. Lindsey Graham wrote in a statement that he rejects Trump's disrespect of the Khans, CNN reported:
This is going to a place where we've never gone before, to push back against the families of the fallen. There used to be some things that were sacred in American politics -- that you don't do -- like criticizing the parents of a fallen soldier even if they criticize you.
Senate Majority Leader Mitch McConnell also released a statement, according to ABC News. He wrote:
All Americans should value the patriotic service of the patriots who volunteer to selflessly defend us in the armed services. And as I have long made clear, I agree with the Khans and families across the country that a travel ban on all members of a religion is simply contrary to American values.
Speaker of the House Paul Ryan renewed his condemnation of a "religious test" for immigrants and defended the Khans, ABC News reported:
Many Muslim Americans have served valiantly in our military, and made the ultimate sacrifice. Captain Khan was one such brave example. His sacrifice -- and that of Khizr and Ghazala Khan -- should always be honored. Period.
Khan asked both McConnell and Ryan to stand against Trump, but ABC News reported that neither one used Trump's name in their comments. Arizona Sen. John McCain, previously mocked by Trump for being a prisoner of war, took a stronger stance; according to The Washington Post, his statement attempted to clarify the fundamental beliefs of the GOP:
In recent days, Donald Trump disparaged a fallen soldier's parents. He has suggested that the likes of their son should not be allowed in the United States — to say nothing of entering its service. I cannot emphasize enough how deeply I disagree with Mr. Trump's statement. I hope Americans understand that the remarks do not represent the views of our Republican Party, its officers, or candidates.
Clinton told CBS affiliate KDKA how she felt about the Khans and Trump's response during a campaign stop in Pittsburgh:
We talk a lot about patriotism. We throw the word around, but those people who have lost loved ones in service to our country are the ones who are the most moving to me because it's not idle talk. It's deeply rooted in both their loss and their pride.
Those who want to advance the Khans' cause can also support initiatives that help active duty service members and veterans. Local VA hospitals often offer volunteer opportunities, and organizations such as the Disabled American Veterans Charity and the Wounded Warrior Project offer guidance on how to contribute to their causes. Operation Gratitude sends care packages to active duty service members and veterans, even sending items to caregivers of wounded soldiers. There are plenty of other organizations accepting support, as well; websites such as VolunteerMatch can connect individuals anywhere in the country with opportunities to volunteer with veterans. The Khan family suffered an unimaginable loss, but Americans can honor Capt. Khan by standing with all soldiers and veterans through words and actions.