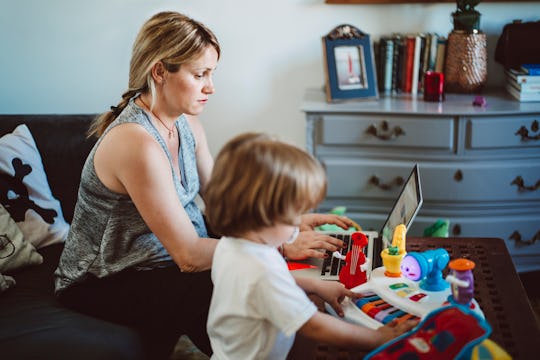 KT images/Getty
How To Talk To Your Boss If You're Being Pressured To Go Back Into Work
As businesses across the country slowly begin to reopen, more and more people are returning to the workplace. But with coronavirus cases surging again, you might feel less than comfortable with the idea of leaving the safety of your home office (and even less comfortable with the prospect of talking to your boss about your concerns). If you're freaking out because you don't know how to talk to your boss about working remotely after quarantine ends, take a breath: There are some steps you can take to make sure that you get your message across in the most efficient and effective way possible.
"If you are feeling anxious about returning to the workplace, you are not alone," licensed psychologist Amanda Darnley, Psy.D., MHC, tells Romper in an email. "Talking to your employer about your concerns is completely reasonable."
As a survey conducted in late May by CreditCards.com found, 35% of Americans who made the switch from working at home during the pandemic would prefer to continue doing so full-time, Newsweek reported. If not full-time, 21% of the same group surveyed would prefer to continue working from home "at least four days a week, 26% said two to three days per week and 82% said at least two days per week."
Whether working from home makes more sense financially for your family or you're concerned about the safety of returning to the workplace, it's understandable if you're similarly reluctant to return to the workplace. While employers have to adhere to strict CDC guidelines — such as social distancing, daily health checks, encouraging workers to wear face masks, and improving the ventilation system in the building — before welcoming workers back, there's no way to eliminate the risk entirely.
So if your state is allowing employees to gather again in the workplace and you're feeling pressure from your boss to come back in, here are some tips from the experts on how to turn a potentially difficult conversation into an interaction that benefits both you and your employer.