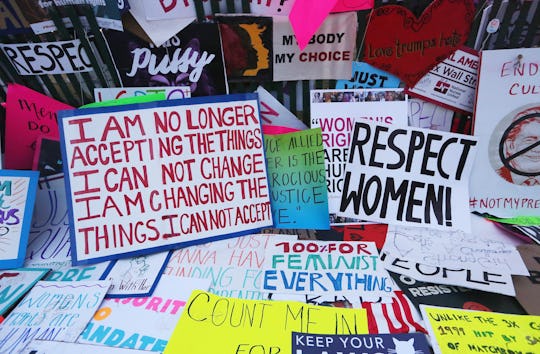 Mario Tama/Getty Images News/Getty Images
How To Talk To Employers About The Women's Strike
This International Women's Day is shaping up to be quite the event, with many women planning to take part in the "Day Without A Woman" strike planned by the same women behind January's incredibly successful Women's March. It's all going down on Wednesday, March 8, and women from across all industries will be walking out of work for a day to highlight the lower wages and greater challenges women often face at work. If you're ready to join, here's how to talk to your employer about the international women's strike — and there's a couple of good reasons why you may want to have that conversation.
First of all, the entire point of the strike is to raise awareness of "the economic power and significance that women have in the United States and global economies, while calling attention to the economic injustices women and gender nonconforming people continue to face," according to the Women's March. By talking to your employer, you're helping them see the importance of the strike and their role in women's equality at the workplace.
Another good reason to speak up? While you may believe strongly in the cause, your employer may just see it as another Wednesday — and for some employees, skipping out on work could be seen as grounds for termination. Gulp.
So, while you absolutely do not have to bring up the strike with your boss, the best way to go about joining a Day Without a Woman for some might be to have a chat with their employer. That can be done in a couple of ways, depending on each person's level of comfort.
Take A Personal Day
If you're not comfortable telling your employer that you're striking, don't worry: you don't have to. Say that you need to take a day off for personal reasons and end the conversation there. There are plenty of other places where you can spread your message, so if you're not comfortable doing so at work, there's no need to.
Send A Letter
The organizers of the Day Without A Woman strike have put together a letter that employees can send their employers, explaining their participation in the cause and asking for employers' support. If you're not quite sure what to say to your boss, their letter might make a great way to get the message across — or at least inspire your wording for a face-to-face conversation.
Tell Them Why You're Striking
If you're comfortable doing so, sit down with your employer and have an honest talk about why you're participating. You can bring up the gender wage gap: according to the Center for American Progress, women — on average — make only 78 percent of what their male counterparts do for doing the same work, and minorities often earn much less. You can bring up the fact that, according to CNN, less than 15 percent of top leadership positions are held by women. On top of that, women are still doing more housework and providing more childcare than men are at home, according to TIME.
If you can talk to your employer about the strike, have an honest conversation about your concerns about equality in the workplace. You might be surprised by the support. And if you can't, never fear — there are plenty of other ways to support A Day Without A Woman, from wearing red in solidarity to volunteering for women's groups.