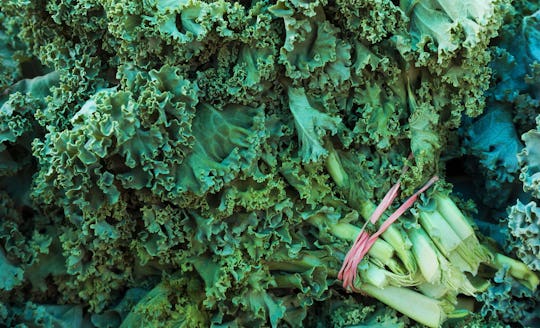 PAUL J. RICHARDS/AFP/Getty Images
How To Tell If Your Trader Joe's Broccoli & Kale Salads Are Part Of The Listeria Recall
Trader Joe's recently announced more recalls just days after one of its frozen vegetable suppliers, CRF Food Products, recalled frozen vegetable and fruit products for potential contamination with the harmful bacterium Listeria monocytogenes on Monday. Trader Joe's recalled its kale and broccoli salads in an update to its recall announcement for other frozen vegetable products that were possibly contaminated. Here's how to tell if your Trader Joe's kale and broccoli salads are part of Trader Joe's Listeria recall.
In Trader Joe's latest announcements, the company alerted that it is voluntarily recalling one of its packaged salads called, "Trader Joe's Broccoli Slaw & Kale Salad with White Chicken Meat, Sunflower Seeds, Cranberries, And A Sweet & Spicy Vinaigrette," supplied by Ghiringhelli Specality Foods, in Vallejo, Calif. The supplier reportedly recalled 33,610 pounds of this salad, according to the United States Department of Agriculture.
The recalled product has "use by" dates from May 2 to May 7 and were only sold in Arizona, California, Nevada, and Utah, Trader Joe's stated. The grocery food chain explained that it's the sunflower seed ingredient that may be contaminated with the dangerous bacterium. So, if you've purchased this product with SKU number "SKU 50286," Trader Joe's urges that you discard it or return it to any store location for a full refund.
"Products with USE BY dates outside of the affected 05/02 through 05/07 range are not part of this recall," the announcement read. "Product with a USE BY date of 05/08 or later is being produced with a different source of sunflower seeds."
In addition to its kale and broccoli salad, Trader Joe's updated its initial recall of a number of frozen vegetables products after its supplier, CRF Food Products, recalled all of its frozen organic and traditional fruit and vegetable products. Now, Trader Joe's includes "Trader Joe's Organic Super Sweet Cut Corn" in the recall list. The frozen vegetable product contains the SKU Barcode number, "SKU/Barcode 00299633." Here are the nine lot codes associated with the recalled product:
6180 03237xx
618006247xx
6180 06287xx
6180 06297xx
6180 06307xx
6180 07137xx
6180 08117xx
6180 08127xx
6180 08137xx
Trader Joe's noted that the nine-digit codes listed above have all been recalled, regardless of the varying two-digit numbers that goes at the end of each code. The company has also confirmed that the products are not on the shelves.
"We have confirmed that Organic Super Sweet Cut Corn with the affected codes is not currently on our shelves," the announcement read.
As grocery stores and suppliers continue to update information on possible contamination, it's important that consumers remain informed. Listeria monocytogenes causes listeriosis or listeria, a serious infection that can cause meningitis, death, miscarriages, and, bacteremia, among other alarming health risks. It primarily affects older adults, adults with weakened immune systems, pregnant women, and newborns.
More information on Listeria and its symptoms can be found on the CDC's website. Customers with questions for Trader Joe's can contact the company's customer relations line at (626) 599-3817.