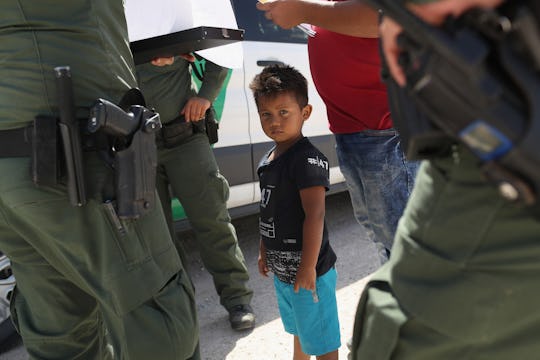 John Moore/Getty Images News/Getty Images
How To Text Senators About The Zero Tolerance Policy, Because Silence Isn't Working
If images of small children crying at their parents' feet while their parents are being patted down by border patrol, or headlines about a 10-year-old with Down syndrome being taken from her immigrant mother have you feeling outraged, well, good. Welcome to humanity. It has never been illegal to seek asylum in the United States until now, the result of a "zero tolerance" instituted by Trump administration in May. As a result, approximately 2,000 undocumented immigrant children are being held in government custody. If you are wondering how to text your senator about the zero tolerance policy, call your elected officials, and/or donate your time and money, then here are some answers.
According to the Resistbot website, all you have to do is text the word RESIST on Telegram, Messenger, Twitter, or to 50409 on SMS and the service will find out who represents you in Congress, then deliver your message to them in under two minutes. No downloads or apps required. According to the website, the conversation with Resistbot might look like this:
Resistbot: Hi, I'm Resistbot. I'm going to help you contact your officials. What would you like to tell them?
You: Congress needs to pass the Keep Families Together Act so children are not separated from their parents at the border.
Resistbot: Sounds great! I'll deliver that to Senators Brown and Portman.
After you've done that, consider picking up the phone to call your senator about the zero tolerance policy. The ACLU has put together a script so you can hit all of the key points. All you have to do is enter your phone number (including area code) and the website will route your call to your local senators. Once connected, introduce yourself to the congressional staffer who answers the phone and say:
Hi, my name is [YOUR NAME] and my zip code is [YOUR ZIP]. I'm urging the Senator to denounce Trump's family separation policy and use all of Congress' authority to stop it.
In addition to texting, the Resistbot also offers some tools for reaching out to your elected officials. The website noted it can help you discover town hall meetings, find opportunities for volunteering, and link you to methods for writing to your senators, representatives, and even the White House. You can even use the service to write a letter to your members of Congress and submit it to your local newspaper at the same time.
If you find yourself wanting to volunteer and/or donate money, then you will find a number of organizations across the country working overtime to help you discover ways to advocate for change.
Here are a few organizations you might want to check out:
Find a more comprehensive list here.
Many organizations in border states are also seeking volunteers who can help with "organizing legal intake and interviewing families, especially if those volunteers are Spanish-speaking and have legal experience," according to The Cut.
While you have your phone in your hands, you might also want to think about contacting Immigration and Customs Enforcement (ICE) by calling them at 1-866-DHS-2-ICE, according to Fast Company. You can also write to them and register complaints with the Department of Homeland Security.
Most of all, proceed with this knowledge: You are one person, but together the calls, texts, donations, volunteer efforts, and social media posts about what is happening at the border can make a difference. You can be a part of that.