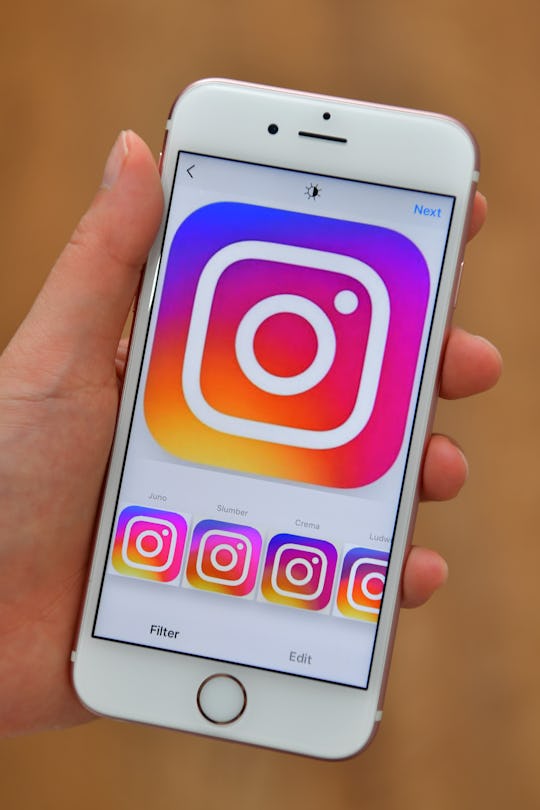 Carl Court/Getty Images News/Getty Images
How To Turn Off Instagram Live, The Latest Way To Share Videos On The App
If you're an avid Instagram user, and just got accustomed to its new updates — which allow users to turn off comments or remove followers – then it's time to get prepare yourself for even more fresh developments. As of Monday, Instagram has released a new feature which allows users to record live videos, the same way users currently broadcast video from Facebook using Facebook Live. The live video feature has begun rolling out this week, so it may or may not be available to you right away. But if your app did update, and you're feeling a bit overwhelmed by the new feature, then it's likely you're wondering how to turn off Instagram Live Video and avoid the chaos altogether — especially since there are certainly a lot of options for photo and video-sharing out there already.
As The Verge reported Monday, footage broadcast using Instagram's new live video feature disappears once the video recording has concluded. The video is then unavailable for replay, and apparently vanishes from the app altogether. This feature is a bit different from parent company Facebook's live video feature which enables users' content to be replayed after the recording has finished. What this will mean for the type of content that will be shared on Instagram – given its immediate disappearing feature – is yet to be seen.
In a blog post published on Nov. 21, the company explained the motivation behind creating a live video feature as an update to "Instagram Stories," which launched back in August:
Live video on Instagram Stories helps you connect with your friends and followers right now. When you're done, your live story disappears from the app so you can feel more comfortable sharing anything, anytime.
As explained on the company's blog, Instagram's live video can be accessed by tapping the camera icon on the top left screen on the app, or by swiping right. Users can tap "Live" and then "Start Live Video" to launch the feature. If you're following someone who is using the live video feature, you'll see "Live" underneath their picture in the "Stories" bar at the top when they're in the middle of a broadcast. But it seems you'll have to be at the right place at the right time since the video will disappear shortly after.
But if there's just no right place or right time for Instagram "Live" in your life – if you're not interested in seeing what your followers are up to in real time, you have options. The company's help center suggests you can mute the stories of someone you follow. And since you can't exactly remove "Stories," and therefore the "Live" option from your app altogether, you do have some say on who you'll see on your newsfeed. The help center provides the following information about muting someone's "Stories":
Stories you've muted will appear at the end of the bar at the top of Feed, and won't have a colorful ring around them when they're updated. Muted stories won't automatically play when you watch stories.
Only time will tell how Instagram's live video feature will play out. Perhaps people will get a bit more insight into the lives of the people they follow in Instagram – or perhaps they'll decide to just hit "mute."