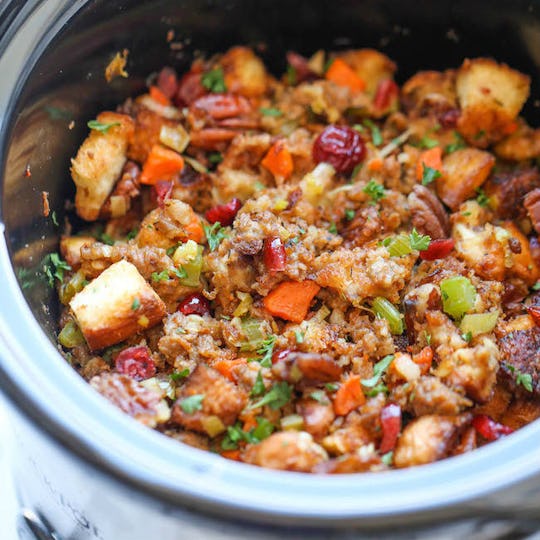 How to Use a Crockpot to Cook Your Entire Thanksgiving Dinner, Because You'd Rather Watch the Parade Than a Pot of Water
If you're anything like me, you're probably both extremely excited and extremely overwhelmed at the thought of cooking a full Thanksgiving dinner. One year, I spent four hours poring over Thanksgiving recipes until I had a lengthy grocery list, a Pinterest board full of unrealistic recipes, and the number for the local pizza place because, let's be honest, everyone needs a backup plan. I eventually scaled back, knowing my ambitions would drive me crazy. If I had known back then how to use a crockpot to cook Thanksgiving dinner, I could've saved myself so much energy.
Sounds like a pipe dream, I know, but it can be done! Crockpots are pretty much the greatest things ever, especially for busy women. The other bonus? Using a crockpot to cook your Thanksgiving dinner means spending more time watching the Macy's parade with your kids, more time yelling at the football game, and more time talking to the cousins you haven't seen in six months. Ask everyone in your family to bring a crockpot and you can have your entire countertop become Thanksgiving food central while you enjoy the time with your loved ones. These nine crockpot Thanksgiving recipes are sure to make dinner prep a breeze and the day much more relaxed for you to gobble up.