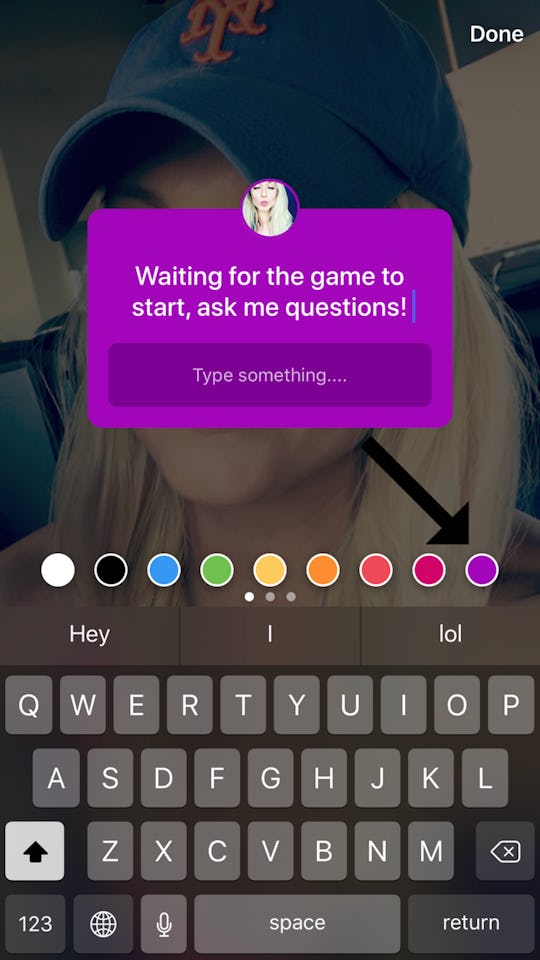 Courtesy of Alison Kresta
How To Use Questions On Instagram Stories, Because You Need Another Tech Obsession
Instagram just launched its new Questions feature for Instagram Stories, which allows users to interact with their followers in a fun way by posing questions to their audience. Instagrammers can now use the Questions sticker to invite their followers to ask them questions, answer their questions, and share these interactions with the rest of their community. Sound confusing? It's not. Here's how to use the Questions sticker on Instagram.
As an influencer, I love to use stories to interact with my audience on my fitness account, @alikfitness. In the past, I've invited my followers to ask me questions through video in which I would have to go through my direct messages (DMs) and answer whichever questions were most popular or whichever ones I found most relevant to my content. The Questions sticker makes it easier to see all your responses at once so you don't have to go through the tedious process of weeding through your DMs. Using the Questions sticker not only allows you to answer questions from your audience, but ask them questions as well. Maybe you can use it to see what your audience wants to see more of on your account. You can also check in with friends and family to see if anyone is attending an event you're going to, or maybe you just want to open up a discussion about a certain topic and get thoughts and opinions from the people in your community. Whatever you use your Instagram account for, the Questions sticker is fun, engaging and easy to use.
So to start, open your Instagram page and begin to post a story.
Once you have stories open, take a picture of whatever you want to feature or add an old photo or video from your camera roll. Once you have the image you want, click the smiley sticker in the upper right corner.
Once you open the stickers, you'll see one that says "questions".
Click it and type in a question to your audience or invite your followers to ask you questions. You can even change the color of the text box from white to purple, blue, yellow or another color you prefer.
When someone replies to you, you will see their response when you open your story to see who's viewed it. Responses will not go into your direct messages, so you'll have to view your story to see them. You can also view your responses in the notifications tab (the little heart on the bottom of your home page).
You can also reply to your responses by posting their questions and answering them in a separate story (their profiles will not be visible).
And voila! A new fun and interactive way to engage with your followers, friends, and family.
Keep in mind, this feature differs from the direct video feature (where you send a user a direct photo or video that disappears after it is viewed) because it does not get sent into your direct messages and your responses will not disappear. The only person who can see your response is the person whose story you're responding to, even if they choose to share your response with the rest of their followers. The user would have to manually tag you when they share your response in their story in order to give you credit for the question, which would then send you a notification from Instagram if this happens.
I love using Instagram as a business tool and to keep in touch with my followers, friends, and family. The Questions sticker is yet another way to stay in touch and have fun doing it. Who doesn't want more interaction?